Towbars Toyota HiAce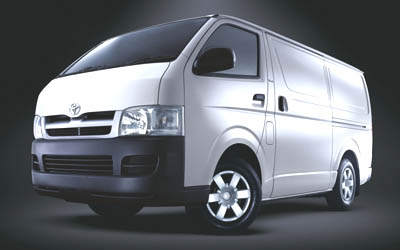 Find Toyota HiAce roof racks here
Date
Vehicle description
Make
Type
Part #
Rating
Fitted $
Comments
11/1998-3/2005
HiAce Panel Van
Tongue
1241
1000/80
TLP
1162
1000/80
Includes protector bars
HLPS
1393R
1400/120
Includes protector bars and step
11/1989-3/2005
Commuter Bus
Tongue
1788
1000/80
TLP
1789
1000/80
Includes protector bars
Note 2005 onwards: Access is required to inside LH & RH inner panels at the back of load area, if you have an internal fitout we need to see the vehicle before booking.
4/2005-05/2019
HiAce van LWB (Not SLWB) Not LPG
Tongue
3069W
1000/100
Hitch
3067RW
1400/140
additional 'Telstra' step for 3067RW
8363+8360
na
4/2005-05/2019
HiAce van with LPG
2088W towbar available but must be fitted by LPG licenced fitter.
06/2019 on
HiAce Gen6
Hitch
3305RW
1900/190
Includes #4837 ECU
Corner protectors
08387
Attach to 3305RW tow bar
Super Long Wheel Base HiAce: details here
Short Bonnet Van (SBV) & Walkthro: details here
Prices include fitting, trailer lighting socket, chrome ball and cap.
Rating = max trailer/max down load on ball
How to organise your tow bar fitting.
Tow bar Types
Standard (Tongue) towbars

The standard towbar uses a tongue to mount the tow ball and are also known as gooseneck towbars. The tongue can be removed by undoing 2 bolts. The standard bar is ideal for towing lighter loads like small box trailers, tinnies, jet skis and many other single axle trailers. Ratings range from 600kg to 1600kg depending on the vehicle. There is also a large range of bike carriers that can be used with a gooseneck tow bar, see our bike rack page for details.
Hitch Receiver towbars

The hitch receiver tow bar incorporates a removable square hitch that is fitted with a quick release pin. These bars are available for the Toyota Hiace with 50mm square receiver sockets. This allows for quick removal of the tow hitch when not in use to save those shins. The square hitch tow bar can also provide a mounting point for a wide range of bike carriers. Please see our bike rack pages for details.
Protector bar towbars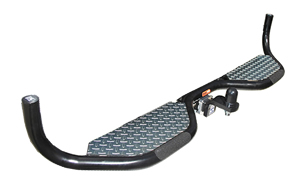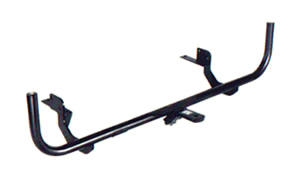 On some vehicles it is possible to install a tongue type or hitch receiver that also incorporates protector bars and on some vehicles a step is also incorporated.
HLPS: Hitch bar, lamp protectors and step.
TLP: Standard bar with lamp protectors.