Towbars Holden Colorado



Find Holden Colorado roof racks here
Date
Vehicle description
Make
Type
Part #
Rating
Fitted $
Comments
7/2008-05/2012
Tub Body, NO rear bumper and Cab-chassis (2&4door)
Tongue
2539W
1250/90
Hitch
2373RW
3000/300
7/2008-05/2012
Tub body WITH rear bumper step.
Hitch
2372RW
3000/300
06/2012 on
2dr and 4dr Cab Chassis (DX and LX models)
Hitch
3272RW
3500/350
Includes WLE70001ECU protection
3231RW
3500/350

Recovery rating 8000kg includes #4835 or #4837 ECU

Note: DX, LX, LT models use ECU#4837. LTZ models use ECU#4835
06/2012 on
2dr and 4dr tub body (incl. models with step)
Hitch
3271RW
3500/350

Includes WLE70001 ECU protection

3296XW
3500/350

Includes WLE70001 ECU electronic protection.
Prices include fitting, trailer lighting socket, chrome ball and cap.
Rating = max trailer/max down load on ball
How to organise your tow bar fitting.
Tow bar Types
Standard (Tongue) towbars

The standard towbar uses a tongue to mount the tow ball and are also known as gooseneck towbars. The tongue can be removed by undoing 2 bolts. The standard bar is ideal for towing lighter loads like small box trailers, tinnies, jet skis and many other single axle trailers. Ratings range from 600kg to 1600kg depending on the vehicle. There is also a large range of bike carriers that can be used with a gooseneck tow bar, see our bike rack page for details.
Hitch Receiver towbars

The hitch receiver tow bar incorporates a removable square hitch that is fitted with a quick release pin. These bars are available as light duty bars with a 40mm square receiver hole and heavier ratings with a 50mm square hole. Heavy duty hitch receivers are ideal for towing caravans, horse floats, car trailers and larger boats depending on the vehicles towing capabilities. They also allow quick removal of the tow hitch when not in use to save those shins. The square hitch tow bar can also provide a mounting point for a wide range of bike carriers. Please see our bike rack pages for details.
X-Bar towbars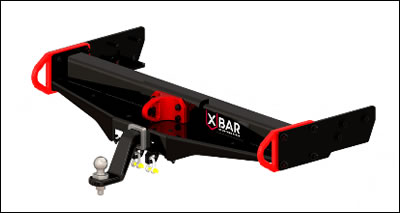 The Hayman Reese X-BAR for the Holden Colorado is built tough for off-road action. Forged steel recovery points and heavy duty side arms give extremely strong anchor points for pulling a vehicle out of the bog. Improved depature angles and protection for electrical sockets makes the X-BAR the best choice for off-road use.