You are here: Bike carriers >> Tow bar bike carriers
Tow Bar Mount Bike Carriers

I want my bike carrier to mount to:

Tow bar mounted bike carriers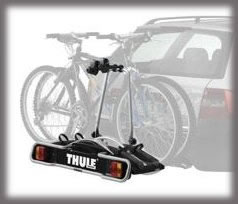 What is important:
What type of towbar do you have?
How many bikes do you want to carry?
Platform style or hanging style?
What's your budget?
Do you have an SUV with a spare wheel on the back?
Why not read our helpful guide to buying a bike rack..
What type of towbar do you have?

Bike carriers can be attached to a towball, a 40x40 square hitch or a 50x50 square hitch. Just follow the links to find out what is available for the mounting system you wish to use.
How many bikes do you want to carry?
There are carriers with a capacity of up to 4 bikes for towball and 40mm hitch mounting and up to 5 bikes for vehicles with heavy duty 50mm square hitch receivers. However, you must check out the down load rating of your particular towbar. You should find this on a sticker/plate on the towbar or there may be a sticker on the bottom of the driver's door/door jamb. Bear in mind that the download rating on a towbar is measured at the ball and doesn't include any leverage added to the load by a bike rack.
The Law
Traffic laws change from State to State so you need to do your own research into what can get you in to trouble when using a bike rack in your loaction.
The key things we consider when using a bike rack in NSW is how far the bikes and racks protrude and obscuring of the vehicle's lights and number plate. The following is my own interpretation on how the law relates to NSW.
At the time of writing we reckon you would be ok in terms of protrusions if the collection of bikes is not more than 120cm from the back of the car and the bike wheels should not stick out any further than your wing mirrors. It is very rare for the bike rack not to obscure the car's number plate so you will most likely need to get a special 'bike rack number plate' from the RTA. No, you cannot make up a number plate from a piece of card, even if it is nice laminated one! And the bike number plate MUST BE ILLUMINATED AT NIGHT TIME.
You should decide if the bikes and the carrier obscure your vehicle's rear lights. Again this is usually quite likely. Rather than trying to convince a traffic cop that you can see your indicators through 4 sets of bike wheels it can save a lot of hassle, points and $$s if you invest in a small light board. These are available from Rhino and Thule for a very reasonable price and are simply attached across the rear of the bikes with Velcro straps and fix up all your number plate carrying/lighting requirements at once.
Finally in some states the bike rack must be removed if you are not carrying bikes.
As of May 2013 the penalty in NSW for having a number plate that is not clearly visible is $397 and 3 points.
The following links may be helpful:
NSW, VIC, QLD, NT, WA and ACT.
Accessories