Towbars Audi Q5



Find Audi Q5 roof racks here
Date
Vehicle description
Make
Type
Part #
Rating
Fitted $
Comments
03/2009 -01/2017
Audi Q5 (incl SQ5)
Hitch
2980RW
2400/240

Includes ECU protect for vehicle electronics. more info

02/2017 on
Audi Q5
Hitch
3225RW
2000/200
Includes #4828 ECU electronic protection.
Prices include fitting, trailer lighting socket, chrome ball and cap.
Rating = max trailer/max down load on ball
How to organise your tow bar fitting.
Tow bar Types
Hitch Receiver towbars

The hitch receiver tow bar for the Audi Q5 and SQ5 incorporates a removable square hitch that is fitted with a quick release pin. The hitch size for the Q5 is a 50mm square socket. Heavy duty hitch receivers are ideal for towing caravans, horse floats, car trailers and larger boats depending on the vehicles towing capabilities. They also allow quick removal of the tow hitch when not in use to save those shins. The square hitch tow bar can also provide a mounting point for a wide range of bike carriers. Please see our bike rack pages for details.
Gallery Audi Q5 towbars (2009-2017)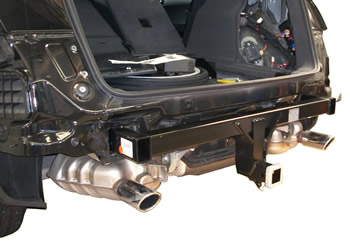 Installing a 2980RW towbar on an Audi Q5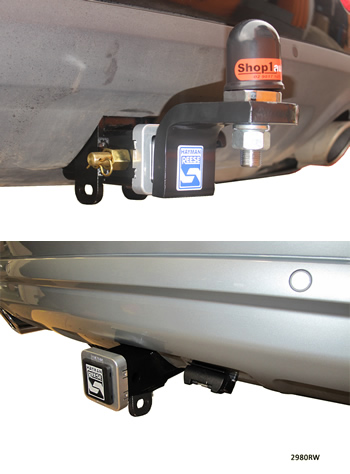 Towbar 2980RW fitted to Audi Q5
Fitting details Audi Q5 towbar (2009-2017)
This is a very popular tow bar at Shop1Auto. We have fitted over 50 tow bars to Q5s in the last couple of years and it is one of our best sellers. The bars themselves have a good strong structure rated to 2 tonne and they fit well leaving a discrete hitch on the underside of the bumper.
The bar looks good. You can see from the photos that the bumper cut is neat and looks presentable (Click on the images to get a close up look). When the tow ball hitch is removed it comes with a moulded plug to go into the square hitch receiver hole and finish it off.
Some customers have been warned by their dealers that if they get an aftermarket towbar fitted they void their warranty and their vehicle's ECU will be destroyed. Obviously your warranty does not cover damage caused by an incorrect fit which is the responsibility of the installer to correct. However, an aftermarket towbar does not void new car warranties. As for the electrics, the power to your trailer lights is taken from an independently fused source that effects no other vehicle circuits. A tiny trigger signal is all that is drawn from the vehicles lighting circuit. The Hayman Reese solutions for a Q5 use vehicle specific wiring looms and ECUs that have been designed to work specifically with this vehicle.
Gallery Audi Q5 towbar 2017 on