Jeep Wrangler Towbars


Find Jeep Wrangler Roof Racks here
Date
Vehicle description
Make
Type
Part #
Rating
Fitted $
Comments
1996-3/2007
Jeep Wrangler (TJ) 2-door
Hitch
1689RL
900/70
3/2007 on
Jeep Wrangler (JK) 2door & 4-door
Hitch
2393RW
2300/170*
Tow bar hidden behind rego plate
*4 door rating, check owners manual for 2 door. Rating varies.
Prices include fitting, trailer lighting socket, chrome ball and cap.
Rating = max trailer/max down load on ball
How to organise your tow bar fitting.
Tow bar Types
Hitch Receiver towbars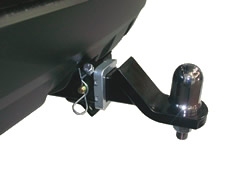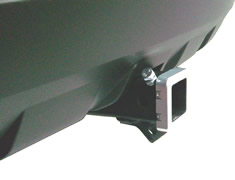 The hitch receiver tow bar incorporates a removable square hitch that is fitted with a quick release pin. For Jeep Wranglers built prior to 2007 the tow hitch socket is a light duty 40mm square and for vehicles 2007 onwards the socket is a heavy duty 50mm. Heavy duty hitch receivers are ideal for towing caravans, horse floats, car trailers and larger boats depending on the vehicles towing capabilities. They also allow quick removal of the tow hitch when not in use to save those shins.The square hitch tow bar can also provide a mounting point for a wide range of bike carriers. Please see our bike rack pages for details. Although if there is a spare wheel mounted on the rear door you will need to choose a bike carrier that can accommodate this.