Ski and Snowboard Carriers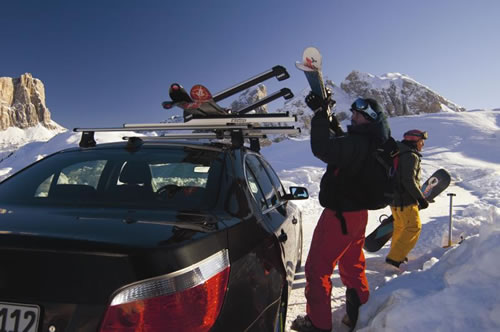 Fits these racks:
Prs Skis
No. Boards
Load width
$
Most crossbar profiles
Clearance: $250 While stocks last
6
4
70cm
$325*
Most crossbar profiles
4
2
45cm
$275*

Most crossbar profiles
2
0
25cm
$225*
Most crossbar profiles
1
0
na
$95
more info
FatCat 6 EVO
6
4
80cm
$375
*freight +$19
Buying a Ski or Snow Board Rack

What Steve thinks...... when you need to carry skis or boards the first thing to decide is whether a dedicated ski carrier is the solution rather than looking at a long luggage box. You may think it useful to have something that can be used for the summer road trips as well as the run to the mountains. Personally I tend to use a luggage box just so that I can get the boots out of the car as well. While my Rossignols smell of roses unfortunately my kids boots are humming after a week on the slopes. So up on the roof they go. But assuming you don't want the expense or storage burden of a luggage box what should you look for in ski/board carriers?
What make of racks do you have?
Do you want to go wider and carry poles as well?
Have you got wide skis?
Have you got high bindings and a low profile roof rack?
How much do you want to spend on your toys?
So what carriers should you buy? Now all the units listed here have merit in their own way which is why they have made it into the list. Quality is pretty much irrelevant in the systems we sell because Thule, Rhino Rack and Yakima all make great products which they support with multi-year warranties.