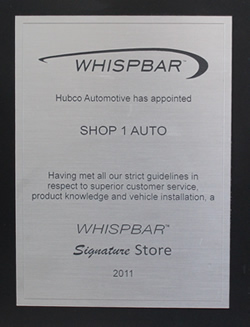 Shop1auto has been selling, fitting and supporting Whispbar products since they were first introduced into Australia in 2006. We are proud that our expertise in roof racks and knowledge of the Whispbar product range was recognised when we were invited to become one of the few selected to join the Whispbar Signature program at its inception in 2011. As a Whispbar Signature store you can be confident that you can get the best advice for your needs when choosing Whispbar roof rack and accessory solutions for your car.
As a Whispbar Signature store, Shop1auto carries an extensive range of Whispbar products in store. We stock all cross bar styles and have around 300 vehicle specific installation kits on the shelf. This makes it very likely we will have a rack to suit your requirements when you need it.
As a Whispbar Signature store we are in direct communication with the manufacturer and we are informed first with new information about fitments and products as it becomes available.

About Whispbar
Whispbar have redefined roof racks. In the last 10 years no other roof rack company has made as much of an impact to the conventions of roof rack design as Whispbar. The wing shaped crossbar was an industry first insisting that roof racks should be quiet and create a minimum of drag. The crossbar design was the result of thousands of hours of research including wind tunnel testing between Whispbar, the University of Canterbury in NZ and engineering research company Industrial Research Ltd. The resulting products give us roof rack systems that not only perform but do the job with style and elegance.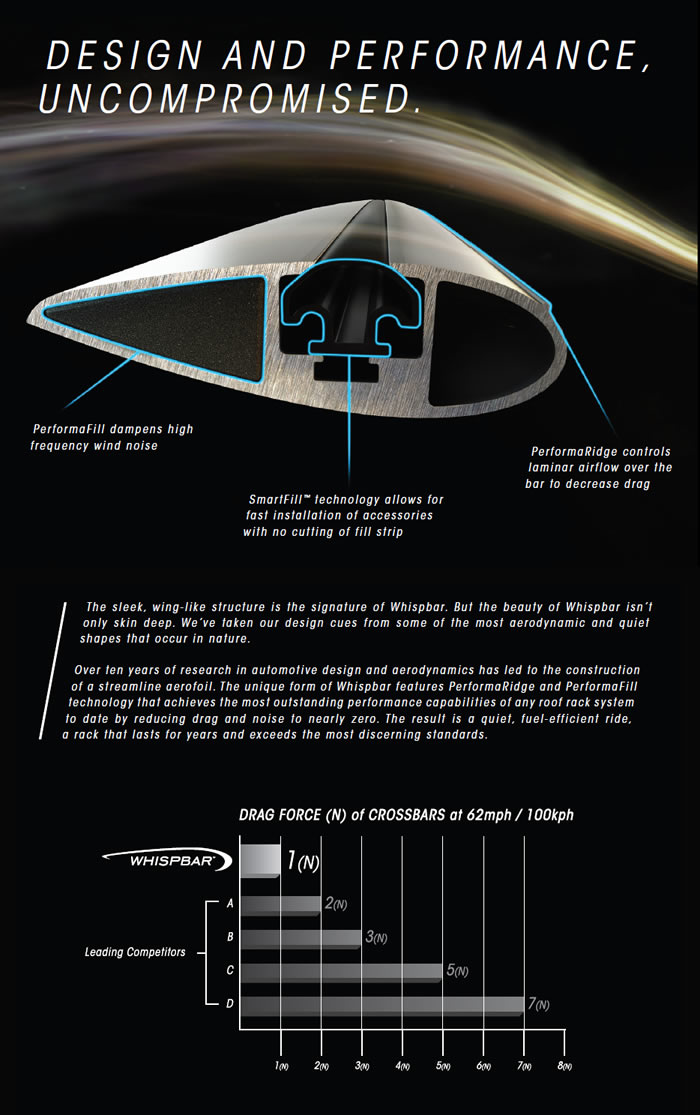 Accessories
Many accessories from other roof rack brands are compatible with Whispbar roof racks when they attach with a clamp around the cross bar or use a T-bolt in the top channel. However, for the complete package Whispbar now have a range of accessories that are as ground breaking as their crossbars were when they were introduced.
With bike carriers, kayak carriers, ski racks and luggage boxes that are simply class leading in looks and function, with a Whispbar roof rack and accessory package you get to carry your gear with the ultimate in function and style.
Find Whispbar Roof Racks for My Car:
---
---