Thule WingBar Edge fixed point roof rack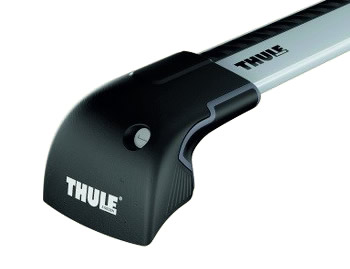 The Thule WingBar Edge roof rack is Thule's best roof rack to date. It looks really smart and includes the WingBar cross section to reduce drag and noise. It use a vehicle specific mounting kit allowing for a neat fit that is designed to integrate well with the vehicle roof.
For most applications the feet sit on rubber pads to provide cushioning where the load is transferred through to the roof.
The Thule WingBar Edge has a T-section top channel which is useful for fitting accessories. The rubber buffer strip that runs across the bar not only acts a soft cushion for your load but also incorporates channels to direct airflow and important aspect of reducing roof rack noise.
The WingBar Edge roof racks are key locking as standard.
Specifications
| | |
| --- | --- |
| Cross bar colour | Silver (Black +$30) |
| Ease of fitting first time | Allow about 3/4 hour for assembling and fitting a pair of cross bars the first time on most vehicles. |
| Ease of fit/removal | Times vary but the racks can typically be removed in less than 10 minutes and refitted in around 15 minutes. |
| Security | The racks are secured from theft with key locks supplied. |
| Transferable | The rack is a modular system consisting of 2 kits: cross bar assemblies and vehicle specific fitting kit. The cross bars can be used in various other vehicle applications so offer some degree of transferability to other vehicles that have pre-installed mounting points. |
| Warranty | 5 years manufacturer's warranty |
| Comments | |
Roof Rack gallery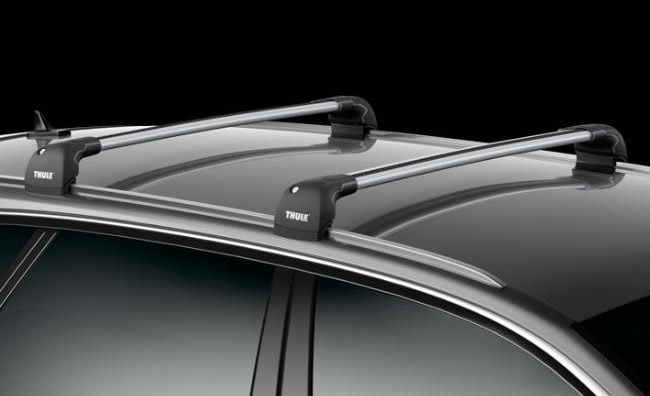 Vehicle listing for Thule WingBar Edge for fixed points
| Make | Year | Model | Rack | Rating kg |
| --- | --- | --- | --- | --- |
| Audi | 3/2005-4/2013 | A3 hatch 5 door, (Gen 2) WITH solid rails | 9595-4014 | 75 |
| Audi | 08/2008 on | A4 Avant Wagon WITH solid rails | 9592-4007 | 75 |
| Audi | 4/2009 on | Q5 wagon with solid rails | 9593-4002 | 75 |
| Audi | 9/2006 on | Q7 wagon with solid rails | 9595-4002 | 75 |
| BMW | 9/2004-09/2011 | 1 Series (E87), 5 door hatchback, anchor points in roof | 9592-3028 | 75 |
| BMW | 10/2011 on | 1 Series (F20), 5 door hatchback, anchor points in roof | 9592-3028 | 75 |
| BMW | 2000-2005 | 3 Series 2 door, Compact (E46) WITH anchor points in roof | 9592-3065 | 75 |
| BMW | 6/1999-5/2006 | 3 Series 2 door, coupe (E46), anchor points in roof | 9592-3065 | 75 |
| BMW | 10/2006 on | 3 Series 2 door, coupe (E92), anchor points in roof | 9592-3039 | 75 |
| BMW | 1998-2005 | 3 Series Sedan (E46) anchor points in roof | 9592-3065 | 75 |
| BMW | 2005-01/2012 | 3 Series Sedan (E90) anchor points in roof | 9594-3028 | 75 |
| BMW | 02/2012 on | 3 Series Sedan (F30) anchor points in roof | 9594-3028 | 75 |
| BMW | 04/2010 on | 3 Series Wagon (E91) WITH solid rails | 9592-4003 | 75 |
| BMW | 5/1996-09/2003 | 5 Series Sedan (E39) Anchor points in roof | 9592-3065 | 75 |
| BMW | 06/2010 on | 5 Series Sedan (F10) Anchor points in roof | 9595-3089 | 75 |
| BMW | 1/2010 on | X1 WITH with solid rails | 9595-4013 | 75 |
| BMW | 2011 on | X3 (F25) with solid rails | 9595-4023 | 50 |
| BMW | 5/2007 on | X5 Wagon (E70) WITH solid rails | 9595-4003 | 75 |
| Citroen | 2004-2011 | C4 5dr hatchback with anchor points | 9594-3019 | 75 |
| Citroen | 2012 on | C4 AirCross with solid rails | 9595-4017 | 50 |
| Ford | 5/2005-7/2011 | Focus (Generation 2) 5dr hatchback, anchor points in roof | 9592-3015 | 75 |
| Ford | 5/2005-7/2011 | Focus (Generation 2) sedan, anchor points in roof | 9592-3015 | 75 |
| Ford | 08/2012 on | Mondeo WITH solid rails | 9595-4024 | 75 |
| Ford | 4/2004 on | Territory | 9591-3077 | 75 |
| Holden | 7/2004 on | Astra (AH) 5dr hatchback, anchor points in roof | 9594-3025 | 75 |
| Holden | 6/2007 on | Astra wagon with roof rails | 9591-4011 | 75 |
| Holden | 3/2003-2008 | Vectra (ZC) hatchback, anchor points in roof | 9595-3006 | 75 |
| Holden | 3/2003-2008 | Vectra (ZC) sedan, anchor points in roof | 9595-3006 | 75 |
| Honda | 2/2007-10/2012 | CRV (Anchor points in roof) | 9592-3042 | 75 |
| Honda | 10/2012 on | CRV WITH slots in roof | 9595-3118 | 75 |
| Hyundai | 10/2007-04/2012 | i30 5dr hatchback (Anchor points in roof) | 9594-3061 | 75 |
| Hyundai | 05/2012 on | i30 hatchback (Anchor points in roof) | 9592-3119 | 75 |
| Hyundai | 2011 on | i40 Tourer wagon | 9595-3107 | 50 |
| Hyundai | 09/2012 on | Santa Fe WITH integrated factory rails | 9595-4029 | 75 |
| Hyundai | 5/2006-10/2009 | Santa Fe WITH integrated factory rails | 9591-3024 | 75 |
| Jeep | 2012 on | Compass (Facelift) with solid rails | 9592-3097 | 75 |
| Jeep | 2007-2011 | Compass with solid roof rails | 9592-3067 | 75 |
| Jeep | 2011 on | Grand Cherokee (WK2) with solid rails . | 9592-4019 | 50 |
| Kia | 2010 on | Sportage WITH solid rails | 9595-4009 | 50 |
| Landrover | 4/2005-9/2009 | Discovery 3 WITH factory tracks | 9593-3027 | 50 |
| Landrover | 9/2009 on | Discovery 4 WITH factory tracks | 9593-3027 | 50 |
| Mazda | 02/2012 on | CX5 with anchor points in roof | 9595-3069 | 75 |
| Mazda | 1/2004-3/2009 | Mazda 3 hatchback 5dr, anchor points in roof | 9592-3069 | 75 |
| Mazda | 1/2004-3/2009 | Mazda 3 sedan , anchor points in roof | 9592-3069 | 75 |
| Mazda | 2/2008-12/2012 | Mazda 6 hatchback, anchor points in roof | 9591-3069 | 75 |
| Mazda | 8/2002-1/2008 | Mazda 6 hatchback, anchor points in roof | 9591-3069 | 75 |
| Mazda | 2/2008-11/2012 | Mazda 6 sedan, anchor points in roof | 9592-3069 | 75 |
| Mazda | 8/2002-1/2008 | Mazda 6 sedan, anchor points in roof | 9591-3069 | 75 |
| Mercedes | 5/2006-09/2012 | A-Class (C169) 3dr, anchor points in roof | 9595-3066 | 75 |
| Mercedes | 10/2012 on | A-Class (W176) 5dr, anchor points in roof | 9595-3117 | 75 |
| Mercedes | 2005-2011 | B-Class (W245), anchor points in roof | 9594-3066 | 75 |
| Mercedes | 2012 on | B-Class (W246), anchor points in roof | 9595-3116 | 75 |
| Mercedes | 2009 on | C-Class 2 dr Coupe (W204) With glass roof | 9591-3083 | 75 |
| Mercedes | 7/2007 on | C-Class sedan (W204) With glass roof, anchor points in roof | 9592-3083 | 75 |
| Mercedes | 7/2007 on | C-Class sedan (W204) Without glass roof, anchor points in roof | 9595-3049 | 75 |
| Mercedes | 6/2009 on | E-Class Coupe (C207) NOT glass roof, anchor points in roof | 9591-3049 | 75 |
| Mercedes | 6/2009 on | E-Class Coupe (C207) WITH glass roof, anchor points in roof | 9591-3083 | 75 |
| Mercedes | 8/2002-6/2009 | E-Class sedan (W211), anchor points in roof | 9595-3026 | 75 |
| Mercedes | 7/2009 on | E-Class sedan (W212) NOT glass roof | 9595-3049 | 75 |
| Mercedes | 7/2009 on | E-Class sedan (W212) WITH glass roof, anchor points in roof | 9595-3083 | 75 |
| Mercedes | 5/2006 on | R-Class without factory rails | 9594-3038 | 75 |
| Mitsubishi | 08/2012 on | ASX with ANCHOR points | 9594-3093 | 75 |
| Mitsubishi | 07/2010-07/2012 | ASX with INTEGRATED RAILS | 9595-4017 | 75 |
| Nissan | 10/2001-9/2007 | X-trail T30, anchor points in roof | 9595-3063 | 75 |
| Nissan | 10/2007 on | X-trail T31, anchor points in roof | 9593-3059 | 75 |
| Peugeot | 2007 on | 207 3dr hatchback, anchor points in roof | 9594-3017 | 75 |
| Peugeot | 2007 on | 207 5dr hatchback, anchor points in roof | 9594-3017 | 75 |
| Peugeot | 3/2002 on | 307 3dr hatchback, anchor points in roof | 9595-3013 | 75 |
| Peugeot | 11/2001-2/2008 | 307 5dr hatchback, anchor points in roof | 9594-3013 | 75 |
| Peugeot | 2007 on | 308 5dr hatchback, anchor points in roof | 9595-3017 | 75 |
| Peugeot | 2004 on | 407 sedan, anchor points in roof | 9592-3017 | 75 |
| Porsche | 2003-2010 | Cayenne WITH factory tracks | 9591-3036 | 75 |
| Renault | 2003-2008 | Megane 3dr hatchback, anchor points in roof | 9592-3078 | 75 |
| Renault | 2002-2008 | Megane 5dr hatchback, anchor points in roof | 9592-3078 | 75 |
| Renault | 5/2003-1/2007 | Scenic II 5dr hatchback, anchor points in roof | 9592-3078 | 75 |
| Saab | 2003-2010 | 9-3 sedan, anchor points in roof | 9593-3065 | 75 |
| Saab | 3/2006 on | 9-3 wagon, anchor points in roof | 9594-3065 | 75 |
| Subaru | 2002-2008 | Forester with solid rails | 9591-4005 | 50 |
| Subaru | 9/2007-02/2012 | Impreza hatchback, anchor points in roof | 9592-3068 | 75 |
| Subaru | 9/2007-2/2012 | Impreza sedan, anchor points in roof | 9594-3068 | 75 |
| Subaru | 9/2009 on | Liberty wagon, anchor points in roof | 9595-3082 | 75 |
| Subaru | 9/2003-8/2009 | Outback with solid factory rails | 9591-4008 | 75 |
| Subaru | 9/2009 on | Outback with solid factory rails | 9595-4008 | 75 |
| Suzuki | 9/2005 on | Grand Vitara 3dr with anchor points | 9594-3024 | 75 |
| Suzuki | 9/2005 on | Grand Vitara 5dr with anchor points  | 9594-3024 | 75 |
| Volvo | 2010 on | V60 wagon WITH sollid rails | 9594-4021 | 50 |
| Volvo | 2009 on | XC60 wagon with solid rails | 9595-4006 | 50 |
| VW | 2011 on | Amarok dual cab ute, anchor points in roof | 9593-3087 | 75 |
| VW | 2004 on | Caddy, anchor points in roof | 9594-3022 | 75 |
| VW | 10/1996-7/2002 | Polo 5dr hatchback, anchor points in roof | 9591-3007 | 75 |
| VW | 9/2003-5/2007 | Touareg WITH factory rails | 9591-3036 | 75 |
| | | | | |