Thule 7106 WingBar Evo roof Rack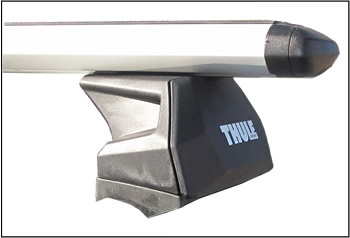 The Thule 7106 WingBar Evo roof rack has been design specifically to attach to the many vehicles that have a 'solid' roof rail. That is a roof rail that has no gap between the bottom of the rail and the roof. It is a 3 part, modular system incorporating a foot pack, cross bars and a vehicle specific attachment kit. Because the fitting kit is designed for a particular car it allows for a neat fit that is designed to integrate well with the vehicle roof rail.
For most applications the feet sit on rubber pads to provide cushioning where the load is transferred through to the roof.
The Thule 7106 bars have a wing cross section to reduce drag and noise. The bar incorporates a T-channel and a clever split down the centre of the rubber buffer strip to allow easy fitting of T-bolt mounted accessories. 7106 roof racks are key locking as standard.
---
Specifications
| | |
| --- | --- |
| Cross bar colour | Anodised silver or powder coat black. |
| Ease of fitting first time | Typically allow about 3/4 hour for assembling and fitting a pair of cross bars the first time on most vehicles. |
| Ease of fit/removal | Times vary but the racks can typically be removed in less than 10 minutes and refitted in around 15 minutes. |
| Security | The racks are secured from theft with key locks supplied. |
| Transferable | The rack is a modular system consisting of 3 kits: feet, cross bars and fitting kit. The foot pack and cross bars can be used in various other vehicle applications so offer some degree of transferability to other vehicles that have solid rails. |
| Warranty | 2 years manufacturer's warranty, extend to 5 years by registering product with Thule |
| Comments | |
Roof Rack gallery Thule 7106 Evo