Rola Roof Rack - Heavy Duty Track Mount (CTM)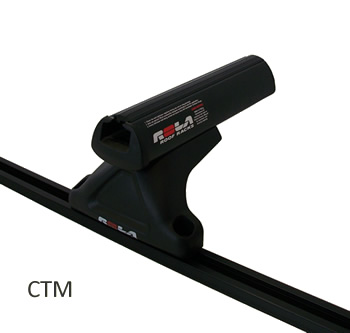 The Rola Heavy Duty Track Mount roof rack is designed to fit vans and station wagons. It uses 2 aluminium channels that are permanently attached to the roof that the cross bars fix to. The cross bars are removable and can be positioned anywhere along the track for maximum flexibility. The tracks also have the benefit of spreading the load along the length of the roof making this a very strong option.
The square top channel in the cross bar can be used for attaching a wide range of accessories.
The tracks are attached using non-corroding, blind rivets after first applying zinc paint and sealant to the holes drilled.
---
Specifications
| | |
| --- | --- |
| Cross bar colour | Silver or Black |
| Ease of fitting first time | First installation takes about 2 hours and a professional install is advised. |
| Ease of fit/removal | The cross bars are secured to the tracks with two screws at each end. Removal usually takes less than 10 minutes and refitting about 15 minutes. |
| Security | The rack is secured with anti tamper fastenings that require a special tool (supplied) to remove. |
| Transferable | The track is permanently attached to the vehicle, the legs and cross bar could be used on another track system in the future. |
| Warranty | 5 years manufacturer's warranty. |
| Comments | Can also be used on fiberglass canopies and hard tops with appropriate fastenings |
Roof Rack gallery

Rola CTM roof racks fitted to 4WD.

Rola CTM roof rack fitted to Nissan Navara