Rhino-Rack Roof Rack RSS Gutterless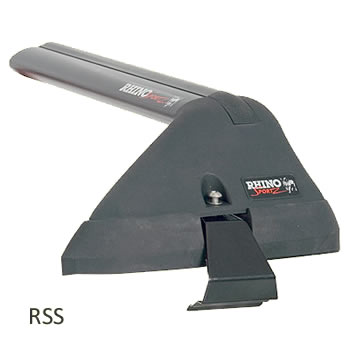 The Rhino RSS is sports roof racks for vehicles that do not have rain gutters or other mounting points.
The rack uses vehicle specific mounting brackets that are contoured to suit the roof return into the door openings of the car. The roof rack leg sits on a soft rubber pad to prevent damage to the vehicle roof and the brackets are padded to protect the vehicle paint at contact points.
The flush style cross bar gives a low profile sporty look which is popular where aesthetics are an important consideration. They can enhance the utility of your vehicle without looking obtrusive.
The cross bar incorporates a T-channel that can be used to fit accessories that have a T-bolt attachment. The bar has an aero profile to reduce drag.
---
Specifications
| | |
| --- | --- |
| Cross bar colour | Black |
| Ease of fitting first time | Allow about 3/4 hour for assembling and fitting a pair of cross bars the first time on most vehicles. |
| Ease of fit/removal | Removal from the vehicle can usually be achieved in less than 10 minutes and refitting about 15 minutes |
| Security | The rack is secured with anti tamper fastenings that require a special tool (supplied) to remove. |
| Transferable | The RSS roof rack is vehicle specific and not transferable to other vehicles. |
| Warranty | Lifetime manufacturer's warranty |
| Comments | |
Roof Rack gallery
xxx