Rhino Rack Roof Rack - RCL Vortex fixing point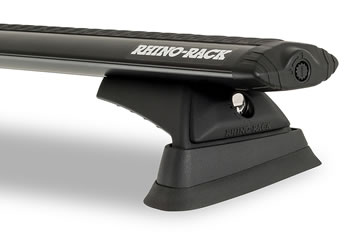 The Heavy Duty Rhino Vortex, fixed point roof rack is designed for vehicles that have incorporated attachment points or tracks into the roof at the factory.
In most cases the Rhino Rack fixed point racks have vehicle specific attachments to give a neat finish where the rack joins to the vehicle.
The vortex bar has an oval cross section which along with a wind defusing buffer strip works to reduce drag and noise.
The cross bar incorporates a T-channel that can be used to fit accessories that have a T-bolt attachment.
---
Specifications
| | |
| --- | --- |
| Cross bar colour | Silver or black |
| Ease of fitting first time | Allow about 3/4 hour for assembling and fitting a pair of cross bars the first time on most vehicles. |
| Ease of fit/removal | Removal from the vehicle can usually be achieved in less than 10 minutes and refitting about 15 minutes |
| Security | Key locking |
| Transferable | The cross bar and legs could be used in some other applications but the attachment kit is vehicle specific. |
| Warranty | Lifetime manufacturer's warranty |
| Comments | |
Fitting Guide