Rhino Rack Roof Rack - 2500 Heavy Duty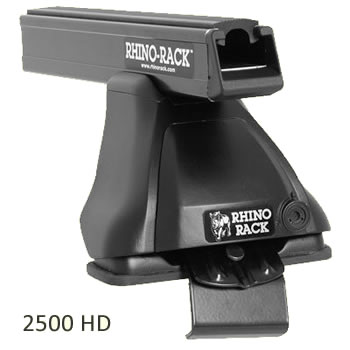 The Rhino Rack 2500 series heavy duty roof rack has been designed to fit a wide range of vehicles with the appropriate attachment brackets. It gives a secure grip on the vehicle by clamping to the roof return into the car door openings.
The roof rack leg sits on a soft rubber pad and the bracket has a rubberised paint to prevent damage to the vehicle roof.
The 2500 Heavy Duty rack uses Rhinos traditional commercial cross bar and is compatible with their wide range of commercial roof rack accessories.
---
Specifications
| | |
| --- | --- |
| Cross bar colour | Black or Silver |
| Ease of fitting first time | Allow about 3/4 hour for assembling and fitting a pair of cross bars the first time on most vehicles. |
| Ease of fit/removal | Removal from the vehicle can usually be achieved in less than 10 minutes and refitting about 15 minutes |
| Security | The Rhino Rack 2500 requires a special tool to remove the end covers and uses an anti-tamper fastener. Additional security can be added with optional key locks. |
| Transferable | The 2500 series can be adjusted to fit a range of other vehicles with an appropriate fitting kit. |
| Warranty | Lifetime manufacturer's warranty |
| Comments | |
Fitting Guide
Roof Rack gallery