Whispbar HD Roof Rack Anchor Point Mounting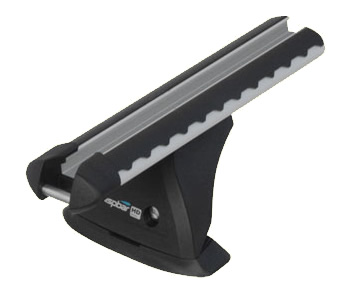 The Whispbar Heavy Duty roof rack has been designed to give a structurally strong cross bar while minimising drag and noise. This is achieved with an oval cross section bar and and a rubber inlay that protects the load and reduces nose while leaving access to the top channel for attachment of accessories.
The cross bar also incorporates a built in tie down point at the end which can be used to loop a strap around or for attaching a cam buckle tie down that has been specifically designed to fit on the rack.
The roof rack leg sits on a soft rubber pad to prevent damage to the vehicle roof. The anchor point rack has a mounting kit designed to give a neat and strong connection to attachment points that have been built into the vehicle roof at the factory.
---
Specifications
| | |
| --- | --- |
| Cross bar colour | Silver |
| Ease of fitting first time | Allow about 3/4 hour for assembling and fitting a pair of cross bars the first time on most vehicles. |
| Ease of fit/removal | Removal from the vehicle can usually be achieved in less than 10 minutes and refitting about 15 minutes |
| Security | The Prorack Heavy duty has key locking end covers as standard |
| Transferable | The cross bar can be adjusted and different attachment kits can be used to make this rack very versatile in terms of fitting to other vehicles. |
| Warranty | 3 years manufacturer's warranty |
| Comments | |
Roof Rack gallery