Whispbar Roof Rack - S44W (low profile)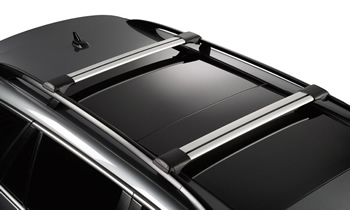 The Whispbar S44W roof rack has a wing shaped bar for the ultimate in reduction of noise and drag. The rail bar rack is used on vehicles that have rails that run along the side of the roof. They have a simple mechanism for quickly adjusting the bar length and clamping to the vehicle rail.
The flush style cross bar gives a low profile sporty look which is popular where aesthetics are an important consideration. They can enhance the utility of your vehicle without looking obtrusive.
The cross bar incorporates a T-channel which is accessible by removing the key locking end covers. This can be used to fit accessories that have a T-bolt attachment.
---
Whispbar S44W: $395*
+++ Only SILVER bars currently available +++
Includes: pair Whispbar crossbars See table below to confirm vehicle.
*Freight $10
Specifications
| | |
| --- | --- |
| Cross bar colour | Silver or Black |
| Ease of fitting first time | Allow about 15 minutes for assembling and fitting a pair of cross bars the first time on most vehicles. |
| Ease of fit/removal | Removal from the vehicle can usually be achieved in less than 10 minutes and refitting about 15 minutes |
| Security | The Whispbar has key locking end covers as standard |
| Transferable | The flush cross bar Whispbar has 100mm of length adjust and will fit some other vehicles with rails. |
| Warranty | 3 years manufacturer's warranty |
| Comments | fitting instructions |
Vehicle listing for Whispbar S44W
Make
Year
Model
Rating kg
Daihatsu
2006 on
Terios wagon WITH raised roof rails
75
Ford
12/2001 -10/2003
Explorer with raised side rails
75
Ford
4/2009-09/2011`
Ranger Wild Trak 4dr Ute WITH factory rails
75
Ford
10/2011 on
Ranger Wild Trak WITH factory rails
75
Holden
10/2003 on
Adventra wagon
75
Holden
10/2006 on
Captiva WITH roof rails
75
Honda
1995-5/2004
Odyssey WITH factory rails
75
Hyundai
11/2009-08/2012
Santa Fe WITH raised factory rails
75
Hyundai
2004 on
Tucson WITH factory rails
75
Jeep
7/1999-5/2005
Grand Cherokee (WJ-WG) with factory rails .
68
Kia
9/1999-9/2003
Carnival MPV WITH factory rails
75
Kia
10/2003-12/2008
Carnival WITH factory rails
75
Kia
4/2008 on
Rondo wagon with RAISEDfactory rails
45
Kia
12/1996-6/2004
Sportage WITH factory rails
75
Kia
4/2005-7/2010
Sportage WITH factory rails
75
Lexus
4/2003-2007
RX330 with factory rails
75
Lexus
2007-2009
RX350 with factory rails
75
Lexus
2009 on
RX400h with factory rails
75
Mazda
3/2000-12/2002
121 Metro hatchback WITH factory rails
75
Mazda
8/2002-1/2008
Mazda 6 wagon with factory rails
75
Mazda
2005 on
Premacy WITH factory rails
75
Mercedes
9/1994-8/2001
C-Class wagon (W202)
75
Mercedes
9/2005-4/2008
C-Class wagon (W203)
75
Mitsubishi
3/1999-9/2003
Pajero iO 3dr WITH factory rails
75
Peugeot
2007 on
207 wagon WITH factory rails
75
Peugeot
10/2003-9/2008
307 wagon WITH factory rails
75
Peugeot
2008 on
308 wagon with factory rails
75
Peugeot
2004 on
407 wagon WITH factory rails
75
Porsche
2003-2010
Cayenne WITH factory rails
75
Saab
4/1999 on
9-5 wagon WITH factory rails
75
Skoda
2007 on
Octavia Scout wagon WITH factory rails
75
Skoda
2003-10/2013
Octavia wagon WITH factory rails
75
Skoda
2010 on
Superb wagon WITH factory rails
75
Suzuki
10/2000-8/2005
Ignis wagon WITH factory rails
75
Suzuki
9/1998 on
Jimny WITH factory rails
50
Toyota
7/2000-1/2006
RAV4 (Cruiser) 3dr WITH factory rails
75
Toyota
7/2000-1/2006
RAV4 (Cruiser) 5dr WITH factory rails
75
Volvo
2003 on
XC90
75
VW
2012 on
Caddy Maxi WITH factory rails
75
Roof Rack gallery Whispbar S44W and S44WB