Thule Rail Bar Roof Rack: SmartRack 784000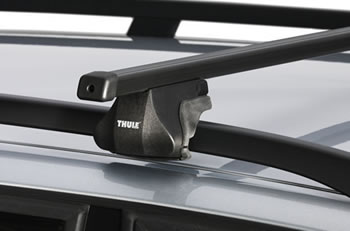 The Thule SmartRack is a very economical roof rack system that still gives the benefits of Thule's world class quality. Easy to assemble and fit it will get you carrying a load quickly at the minimum of cost.
The Thule SmartRack uses the Thule 'Square Bar' cross bar style which is supported by a wide range of accessories for bikes, skis, watercraft, etc. It requires a special Thule (supplied) for fitting and removal giving security from theft.
To confirm if this roof rack system fits your vehicle please refer to the table below and you can find a helpful video guide for fitting here.
---
Thule SmartRack 784 -$245 (AU freight: $20)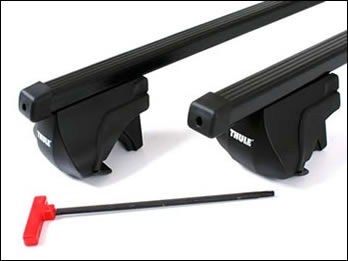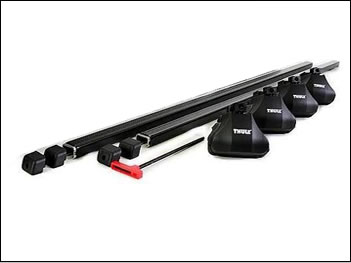 Kit includes: pair of Thule SmartRack crossbars with tool.
Stock: Usually available for dispatch within one business day
---
Specifications
| | |
| --- | --- |
| Cross bar colour | Black, 118cm long |
| Ease of fitting first time | Allow about 35 minutes for assembling and fitting a pair of cross bars the first time on most vehicles. |
| Ease of fit/removal | Removal from the vehicle can usually be achieved in less than 10 minutes and refitting about 15 minutes |
| Security | The ThuleSMartRack requires a special tool for fitting and removal. |
| Transferable | The cross bars are adjustable so the racks can be used on some other vehicles that have similar rails that fit within the adjustment range. |
| Warranty | 2 years manufacturer's warranty. Extend to 5 years by registering at Thule.com |
| Comments | fitting instructions |
Vehicle listing for Thule SMartRack 784000
Make
Year
Model
Rating kg
Alfa Romeo
2000-2007
156 wagon WITH raised rails
80
Alfa Romeo
6/2006-2011
159 wagon WITH raised roof rails
75
Audi
10/1996-8/2002
A4 Avant wagon WITH rails
80
Audi
9/2002-08/2008
A4 Avant wagon WITH rails
80
Audi
3/2001-2006
Allroad WITH rails (C5)
75
Audi
2000-2001
RS4 wagon WITH rails
80
BMW
1999-2005
3 Series Wagon (E46) WITH rails
75
BMW
2006-03/2010
3 Series Wagon (E91) WITH raised rails
75
BMW
1997-2005
5 Series Wagon (E39) with rails
75
BMW
2005-2010
5 Series Wagon (E61) with rails
75
Citroen
2008 on
C5 Wagon WITH roof rails
80
Daewoo
7/1999-2004
Matiz 5 door hatch (WITH raised roof rails)
80
Ford
07/2009 on
Mondeo wagon WITH raised factory rails
75
Holden
10/2003 on
Adventra wagon
75
Holden
10/2006 on
Captiva WITH roof rails
75
Honda
9/1997-12/2001
CRV WITHfactory rails
60
Hyundai
11/2000-4/2006
Santa Fe WITH raised factory rails
34
Hyundai
11/2009-08/2012
Santa Fe WITH raised factory rails
75
Hyundai
6/2000-2008
Trajet wagon WITH factory rails
80
Hyundai
2004-2009
Tucson WITH factory rails
80
Jeep
9/2001-2/2008
Cherokee (KJ) Sports & LTD with factory rails
68
Kia
9/1999-9/2005
Carnival MPV WITH factory rails
75
Kia
2006-2014
Carnival WITH factory rails
75
Kia
12/1996-6/2004
Sportage WITH factory rails
80
Kia
4/2005-7/2010
Sportage WITH factory rails
50
Landrover
8/2007 on
Freelander II, 5dr WITH factory rails
75
Lexus
2009-2015
RX400h with factory rails
75
Lexus
4/2003-2007
RX330 with factory rails
75
Lexus
1/2009-2015
RX350 with factory rails
75
Lexus
2007-2009
RX350 with factory rails
75
Mazda
2/2008-12/2012
Mazda 6 wagon with factory rails
80
Mazda
8/2002-1/2008
Mazda 6 wagon with factory rails
80
Mazda
8/2001 on
MPV WITH factory rails
80
MG
2003-2005
ZT wagon WITH rails
75
Mercedes
9/1994-8/2001
C-Class wagon (W202)
75
Mercedes
9/2005-4/2008
C-Class wagon (W203)
75
Mercedes
5/2008 on
C-Class wagon (W204)
75
Mercedes
10/1996-5/2002
E-Class wagon (W210) with factory rails
75
Mitsubishi
2004-10/2006
Grandis MPV WITH raised factory rails
65
Nissan
2014 on
X-Trail WITH raised factory rails
80
Peugeot
2007 on
207 wagon WITH factory rails
75
Peugeot
10/2003-9/2008
307 wagon WITH factory rails
75
Peugeot
2008 on
308 wagon with factory rails
75
Peugeot
2004 on
407 wagon WITH factory rails
80
Porsche
2003-2010
Cayenne WITH factory rails
80
Renault
6/2008 on
Laguna wagon WITH factory rails
75
Renault
11/2003 on
Megane wagon WITH factory rails
75
Skoda
2012 on
Fabia wagon WITH factory rails
75
Skoda
2007 on
Octavia Scout wagon WITH factory rails
75
Skoda
2009 on
Octavia wagon WITH factory rails
75
Skoda
2006-2015
Roomster WITH factory rails
75
Skoda
2010 on
Superb wagon WITH factory rails
75
Ssangyong
2011 on
Korando WITH factory rails
75
Ssangyong
2/2008 on
Rexton SUV WITH factory rails
40
Ssangyong
6/2003-11/2007
Rexton SUV WITH factory rails
45
Subaru
2008-02/2013
Forester with raised rails
80
Suzuki
10/2000-8/2005
Ignis wagon WITH factory rails
80
Suzuki
9/1998-2008
Jimny WITH factory rails
80
Suzuki
2007 on
SX4 5dr hatchback WITH factory rails
40
Suzuki
10/2000-8/2005
XL7 WITH factory rails
80
Toyota
3/2003-10/2009
Prado 120 Series WITH factory rails
90
Volvo
3/1997 on
V40 WITH factory rails
80
Volvo
2003-2007
V50 wagon
80
Volvo
2008 on
V50 wagon
80
Volvo
2003 on
XC90
80
VW
2012 on
Caddy Maxi WITH factory rails
100
VW
2009-07/2013
Golf Wagon WITH factory rails
75
VW
2012-2016
Passat Alltrack
80
VW
2008 on
Tiguan WITHOUT glass sunroof
80