Rhino Rack SX100-VA118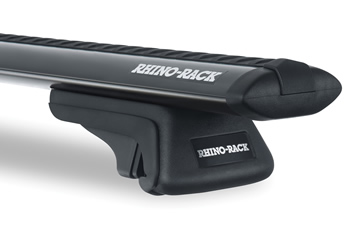 The Rhino SX100 roof rack system is a very popular rail mount system for vehicles that have raised rails running along each side of the roof. The racks have a rubber pad that contours to the shape of the rail and an internal mechanism that is tightened to clamp them securely to the rail.
The SX100 Sportz racks have an aero cross section to reduce drag and noise. The bar incorporates a T-channel for fitting accessories and a rubber buffer strip to cushion the load.
---
Rhino Rack SX100-VA118: $345*
Includes: pair Rhino Rack SX100-VA118 crossbars See table below to confirm vehicle.
*Freight $10
---
Specifications
| | |
| --- | --- |
| Cross bar colour | Black or Silver 1180mm long |
| Ease of fitting first time | Allow about 3/4 hour for assembling and fitting a pair of cross bars the first time on most vehicles. |
| Ease of fit/removal | Removal from the vehicle can usually be achieved in less than 10 minutes and refitting about 15 minutes |
| Security | The Rhino-Rack SX100 rack uses special tool for attachment |
| Transferable | The cross bars are adjustable to fit the vehicles listed in the table below. |
| Warranty | Lifetime manufacturer's warranty |
| Comments | fitting instructions |
Vehicle listing for Rhino SX100-VA118
Make
Year
Model
Rating kg
Alfa Romeo
2000-06/2006
156 wagon WITH raised rails
80
Alfa Romeo
06/2006 to 2011
159 with rails
75
BMW
1999-05/2006
3 Series Wagon (E46) WITH rails
80
BMW
06/2006-03/2010
3 Series Wagon (E91) WITH raised rails
80
BMW
05/2005-08/2010
5 Series Wagon (E61) with rails
80
Chery
2011 on
J11 with rails
55
Citroen
2001-2007
C5 Wagon WITH roof rails
80
Citroen
2008 on
C5 Wagon WITH roof rails
80
Dodge
9/2008-10/2016
Journey wagon WITH raised roof rails
60
Fiat
2012 on
Freemont WITh raised factory rails
59
Ford
12/2001-01/2008
Explorer with rails
80
Ford
07/2009-03/2012
Mondeo with rails
75
Ford
4/2009-07/2011`
Ranger Wild Trak 4dr Ute WITH factory rails
75
Holden
2018 onward
Acadia wagon with rails

80

Holden
10/2003-01/2009
Adventra wagon
75
Holden
10/2006 on
Captiva WITH roof rails
75
Holden
2002-2006
Cruze wagon WITH raised rails
60
Holden
3/1999-06/2004
Frontera (MX) 4dr WITH rails
60
Holden
6/2001-05/2006
Zafira WITH roof rails
80
Honda
1995-5/2004
Odyssey WITH factory rails
80
Honda
6/2004-2/2009
Odyssey WITH factory rails
80
Hyundai
11/2000-4/2006
Santa Fe WITH raised factory rails
34
Hyundai
11/2006-08/2012
Santa Fe WITH raised factory rails
75
Hyundai
6/2000-05/2009
Trajet wagon WITH factory rails
80
Hyundai
2004-01/2010
Tucson WITH factory rails
80
Infinity
08/2012 on
FX WITH factory rails
80
Jeep
7/1999-5/2005
Grand Cherokee (WJ-WG) with factory rails .
68
Jeep
8/2007 on
Patriot with factory rails
50
Kia
9/1999-9/2003
Carnival MPV WITH factory rails
75
Kia
10/2003-02/2007
Carnival WITH factory rails
75
Kia
4/2005-7/2010
Sportage WITH factory rails
45
Lexus
4/2003-2007
RX330 with factory rails
75
Lexus
2007-2009
RX350 with factory rails
75
Lexus
2009-10/2015
RX400h with factory rails
75
Lexus
2010-10/2015
RX450h with factory rails
75
Mazda
2/2008-11/2012
Mazda 6 wagon with factory rails
80
Mazda
8/2001-09/2006
MPV WITH factory rails
80
Mercedes
9/2005-4/2008
C-Class wagon (W203)
75
Mercedes
5/2008-11/2014
C-Class wagon (W204)
75
Mercedes
10/1996-8/2002
E-Class wagon (W210) with factory rails
75
Mini
2008 on
Cooper Clubman WITH raised rails
60
Mitsubishi
4/1997-9/2005
Magna wagon WITH factory rails
80
Mitsubishi
3/1999-9/2003
Pajero iO 3dr and 5dr WITH factory rails
80
Mitsubishi
4/1997-9/2005
Verada wagon WITH factory rails
80
Nissan
2009 on
Murano (Z51) WITH factory rails 
75
Peugeot
10/2007-09/2012
207 wagon WITH factory rails
75
Peugeot
10/2003-6/2008
307 wagon WITH factory rails
75
Peugeot
2/2008-9/2014
308 wagon with factory rails
60
Peugeot
2004 on
407 wagon WITH factory rails
80
Renault
3/2002-1/2006
Laguna wagon WITH factory rails
75
Renault
05/2013-05/2017
Megane wagon WITH factory rails
60
Saab
03/2006-2014
9-3 wagon with rails
80
Skoda
2007 on
Octavia Scout wagon WITH factory rails
75
Skoda
2009 on
Octavia wagon WITH factory rails
75
Skoda
2006 on
Roomster MPV with factory rails
75
Ssangyong

6/2003-on

Rexton SUV WITH factory rails
45
Ssangyong
6/2003-5/2013
Stavic wagon WITH factory rails
45
Subaru
08/1997-07/2002
Forester with integrated rails
80
Subaru
03/2008 to 12/2012
Forester with raised rails
60
Subaru
02/2012-05/2017
XV with rails
75
Suzuki
4/1998-8/2005
Grand Vitara 5dr WITH factory rails
80
Suzuki
10/2000-2/2005
Ignis wagon WITH factory rails
80
Suzuki
9/1998 on
Jimny WITH factory rails
80
Suzuki
2007-11/2013
SX4 5dr hatchback WITH factory rails
40
Suzuki
10/2000-8/2005
XL7 WITH factory rails
80
Toyota
7/2000-1/2006
RAV4 (Cruiser) 3dr WITH factory rails
75
Toyota
7/2000-1/2006
RAV4 (Cruiser) 5dr WITH factory rails
75
Toyota
2/2006-11/2012
RAV4 WITH factory rails
75
Volvo
2003-2007
V50 wagon
80
Volvo
2008 on
V50 wagon
80
Volvo
9/2000-12/2003
V70 Cross Country with factory rails
80
Volvo
3/2008 on
V70 wagon WITH factory rails
80
Volvo
9/2000-1/2008
V70 wagon WITH factory rails
80
Volvo
9/2000-11/2007
XC70 with factory rails
80
Volvo
12/2007 on
XC70 with factory rails
80
Volvo
2003-07/2015
XC90
80
VW
02/2010-on
Golf Wagon WITH factory rails
75
VW
03/2006-09/2015
Passat wagon WITH factory rails
80
VW
10/2012-01/2016
Passat Alltrack with raised rails
80
VW
2008 on
Tiguan WITHOUT glass sunroof
80