Rhino Rack SX100-VA106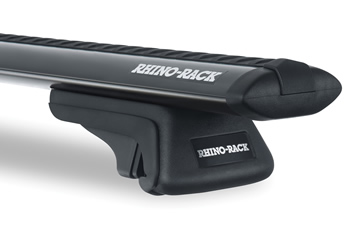 The Rhino SX100 Vortex roof rack system is a very popular rail mount system for vehicles that have raised rails running along each side of the roof. The racks have a rubber pad that contours to the shape of the rail and an internal mechanism that is tightened to clamp them securely to the rail.
The SX100 Vortex racks have an aero cross section to reduce drag and noise. The bar incorporates a T-channel for fitting accessories and a rubber buffer strip to cushion the load.
---
Rhino Rack SX100-VA106: $345*
Includes: pair Rhino Rack SX100 with Vortex crossbars See table below to confirm vehicle.
*Freight $10
---
Specifications
| | |
| --- | --- |
| Cross bar colour | Black or Silver 1065mm long |
| Ease of fitting first time | Allow about 3/4 hour for assembling and fitting a pair of cross bars the first time on most vehicles. |
| Ease of fit/removal | Removal from the vehicle can usually be achieved in less than 10 minutes and refitting about 15 minutes |
| Security | The Rhino-Rack SX100 rack uses special tool for attachment |
| Transferable | The cross bars are adjustable to fit the vehicles listed in the table below. |
| Warranty | Lifetime manufacturer's warranty |
| Comments | fitting instructions |
Vehicle listing for Rhino SX100-VA106
Make
Year
Model
Rating kg
Audi
10/1996-8/2002
A4 Avant wagon WITH rails
80
Audi
9/2002-08/2008
A4 Avant wagon WITH rails
80
BMW
1997-2005
5 Series Wagon (E39) with rails
80
Daewoo
7/1999-2004
Matiz 5 door hatch (WITH raised roof rails)
80
Daewoo
1997-2003
Nubira wagon (WITH raised roof rails)
80
Daewoo
1/2000-2004
Tacuma wagon WITH raised side rails
80
Ford
7/1995-2/2000
Mondeo wagon WITH factory rails
75
Holden
1998-2003
Vectra wagon with factory rails
75
Holden
9/2005-05/2009
Viva wagon with factory rails
75
Honda
9/1997-12/2001
CRV WITHfactory rails
50
Hyundai
4/2009 on
i30 wagon WITH factory rails
75
Hyundai
2/1996-10/2000
Lantra wagon WITH factory rails
75
Kia

4/2008-05/2013

Rondo wagon with RAISED factory rails
70
Kia
2/2003-9/2009
Sorento wagon (BL) WITH factory rails
45
Kia
12/1996-6/2004
Sportage WITH factory rails
80
Landrover
2/1998-4/2007
Freelander, 5dr WITH factory rails
75
Mazda
3/2000-12/2002
121 Metro hatchback WITH factory rails
80
Mazda
8/2002-1/2008
Mazda 6 wagon with factory rails
80
Mazda
2/2001-6/2003
Premacy wagon WITH factory rails
80
Mazda
2/2001-01/2008
Tribute WITH factory rails
35
Mitsubishi
9/1998-11/2009
Challenger WITH factory rails
60
Mitsubishi
12/2009-12/2015
Challenger WITH factory rails
80
Mitsubishi
05/2004-06/2006
Grandis WITH factory rails
65
Mitsubishi
1993-10/2004
Lancer (CE) wagon WITH factory rails
80
Nissan
11/1995-11/2005
Pathfinder (Ti) WITH factory rails
80
Peugeot
3/1998-08/2004
406 wagon WITH factory rails
80
Porsche
06/2003-06/2010
Cayenne with factory rails
80
Renault
9/2004-11/2010
Kangoo Van WITH factory rails
80
Subaru
10/2000-8/2007
Impreza hatchback WITH factory rails
80
Subaru
4/1993-9/2000
Impreza hatchback WITH factory rails
80
Subaru
6/1994-8/2003
Liberty wagon WITH factory rails
80
Subaru
6/1994-8/2003
Outback with raised factory rails
80
Suzuki
10/1996-11/2001
Baleno wagon WITH factory rails
80
Suzuki
5/1999-8/2005
Grand Vitara 3dr WITH factory rails
80
Toyota
12/2001-2009
Avensis MPV WITH factory rails
80
Toyota
2/1993-4/1998
Camry wagon WITH factory rails
80
Toyota
5/1998-8/2002
Camry wagon WITH factory rails
80
Toyota
12/2001-04/2007
Corolla wagon ZZE122R  WITH factory rails
80
Toyota
7/2000-2/2006
Tarago (Dual sliding doors) Gen2. WITH factory rails
80
Toyota
3/2006 on 
Tarago WITH factory rails, Gen3
80
Volvo
3/1997-05/2004
V40 WITH factory rails
80
VW
3/1998-2/2006
Passat wagon WITH factory rails
80