Thule Touring Luggage Boxes
The Thule Touring offers a great value range of luggage boxes. The boxes have a multi-point locking system which operates from a single central key. The lock has a built in safety feature that prevents the key from being removed if the locks are not fully engaged and the barrel can be matched to any existing locks you have on your Thule roof racks or other Thule accessories. The whole range is available with either a Titanium 'aeroskin' finish or an atractive gloss black.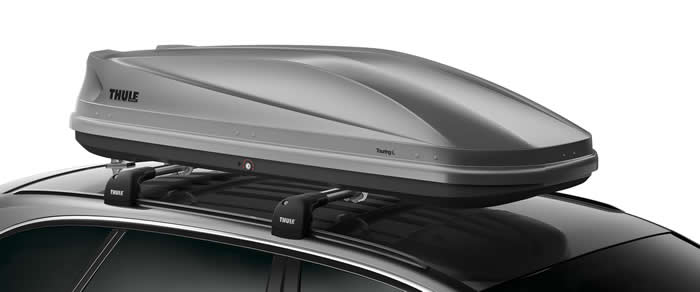 The Touring luggage boxes are Thule's latest range of great value boxes. They come in 5 sizes to accommodate a variety of applications. They are rated to 50kg and installation to your roof racks takes just a few minutes using the Fast-grip claw attachments. All the boxes are available in either grey or gloss black.
5 year warranty
Fast click claws
Kerb side opening on 600
Dual side opening on wide 100/200/700 and 780 boxes
50kg rating
Fit most roof racks
Can be keyed alike with Thule racks
Model
Vol. (ltr)
External (cm)
Internal (cm)
Weight (kg)
Opening
Colour
$
Comments
M
400
175x82x45
169x76
13
dual side
grey
$995
Popular general luggage box
L
420
196x78x43
190x72
15
dual side
grey
$1179
Large general luggage/ski box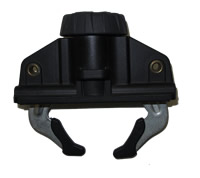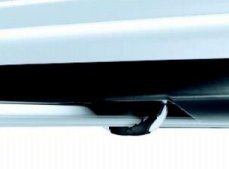 Instructions
Touring M

The Thule Touring 200 is the most popular in the Pacific range for general luggage. Its large 400 litre capacity gives lots more room for the family road trip or camping holiday. With a height of up to 45cm the box is one of the tallest available so is good for bulky items like baby buggies.
Touring L

The Thule Touring 780 is a the perfect all-rounder. Long enough for the majority of skis but also plenty of width for general luggage and bulky camping gear.