Rhino Rack MasterFit Luggage boxes
The Rhino Rack MasterFit series is an excellent range of boxes at an extremely competitive price. The easy to use claw mounting system allows quick attachment to your roof racks. Just position the box with the claws open over your roof racks then wind the claws shut with one hand. The boxes have a 3 point locking system which operates from a single central key. With a rapid mounting system, 75kg rating, large volumes and dual side opening the Rhino Rack MasterFit range gives top end features for an excellent price.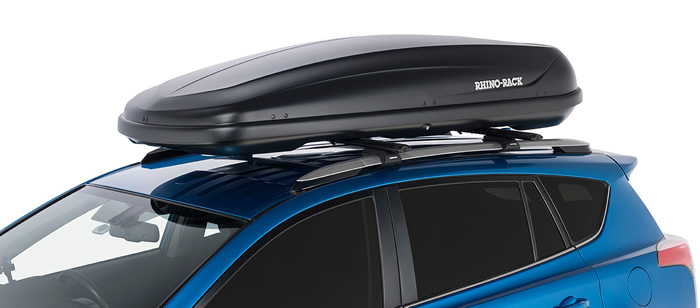 The Rhino MasterFit range comes in a range of sizes with the 370ltr box for smaller cars, the 410ltr being the most popular as a general luggage and ski box with 530ltr topping out the range for those with a serious amount of gear to haul. There is also 320ltr narrow box which is ideal when the roof racks are also required for an additional item along side the box such as a bike or kayak.
5 year warranty
Quick fitting claw attachment (Rhino heavy duty cross bars use u-bolt kit)
Dual side open (RMFT320 rh side only)
75kg rating
Fit most roof racks (Rhino heavy duty + kit RUBK-MF +$50)
Steel reinforcing strips in base
Cross bar spacing RMFT320/RMFT370 550mm to 890mm
Cross bar spacing RMFT410/RMT530 550mm to 1000mm
Model
Vol. (ltr)
External (cm)
Internal (cm)
Weight (kg)
Opening
Colour
$
Comments
RMFT320
320
193x65x42
188x60
15
right
black
$675
Sports box

RMFT370

370
177x77x42
172x72
15
dual
black
$675

Smaller box for a bit of extra storage.

RMFT410
410
191x81x42
186x76
18
dual
black
$725
Great all-rounder ski box and general luggage.
RMFT530
530
215x90x43
21x85
21.5
dual
black
$850
Great value for an extra large box.