Roof Rack Mounted Bike Carriers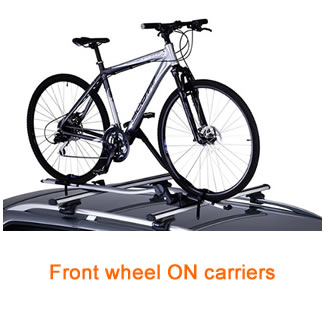 Fork mounted here>>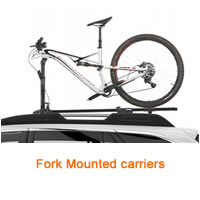 Front wheel ON

Fits these racks:

Colour

$

* FREIGHT $15
RockyMounts
Rhino Vortex, Rhino HD (+kit RBCA035)
Black
$339
more info
Freeride 532
Bars with T-channel and 32x22mm square bar
Silver
$195
more info
Proride 598
Bars with T-channel
Silver
$289
more info
Black
$320
UpRide 599

Bars with T-channel

Silver
$395
more info
Frontloader 02103
Most crossbar profiles
Black
$279
more info
Highroad 02114
Most crossbar profiles
Black
$379
more info
There are many bike carriers available for attaching bikes to your roof racks. At Shop1Auto we can provide any of the carriers available from Thule, Rhino, Whispbar, Yakima, Prorack or ROLA however we have looked at all the offerings and the following selection are the units that we stock based on their individual merits, be that features, price, ease of use etc.
The first choice you need to make is whether to go for a fork mounted bike carrier or a front wheel fitted bike carrier. The front wheel on bike carriers are very convenient as you do not need to remove the bikes front wheel and then working out where to carry the wheel itself. Yet while the fork mount bike carrier is less convenient it does keep the bikes lower on the car, reducing drag at the front and exposure to cross winds at the side. Our general advice is for regular local trips go wheel-on and for long freeway runs go for wheel off. That doesn't mean to say you can not use a wheel-on bike carrier on the freeway.
These are our favourite Front Wheel-On carriers:
Whispbar WB201 Bike Carrier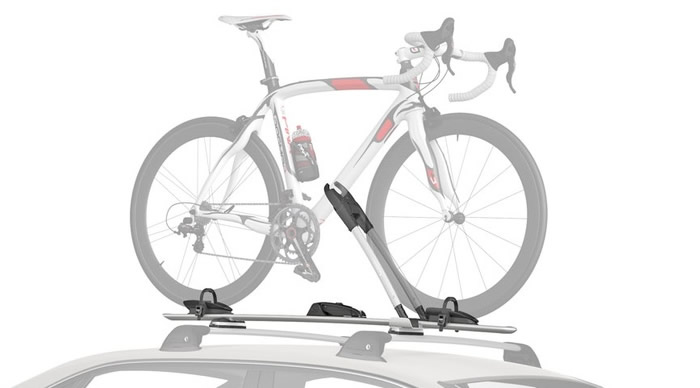 The Whispbar WB201 does it all. Rpid docking system for quick attachment to your cross bars, pump buckle straps to hold the wheels, self centring grip to hold the down tube firmly but gently all locked up with a single lock.
Get the full WB201 bike carrier details here
---
Rhino Rack RBC050 Bike Carrier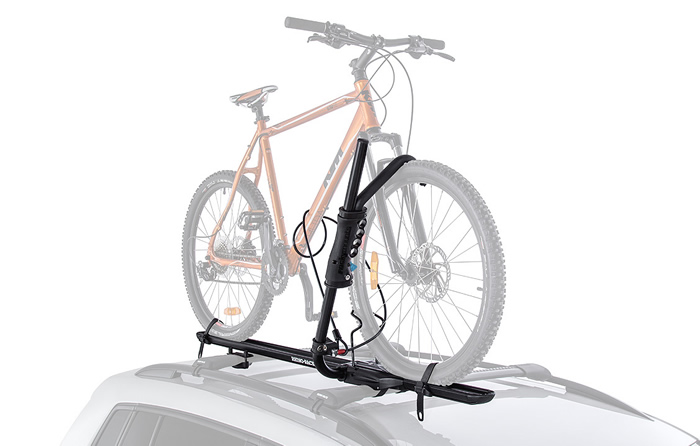 Rhino Rack's sturdiest bike carrier is a very secure piece of equipment. No frame contact and suitable for the widest range of bikes.
Get the full Rhino Rack RBC050 bike carrier details here
---
Thule FreeRide 532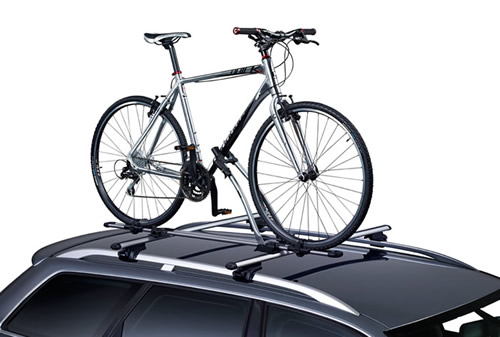 Thule quality at a great price. The FreeRide is smart and functional for carrying a bike up to 17kg with the front wheel fitted.
Get the full FreeRide 532 details here
---
Thule ProRide 598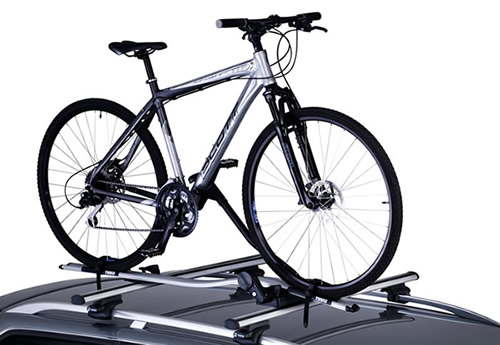 The Thule ProRide 598 bike carrier is extremely popular. It fits to any cross bar with a T-channel in its top face as well as 'square' profile (32mmx22mm) cross bars. It key locks to both the bike and the roof racks and gives simple convenient clamping of the bike with all the controls at the height of the roof rack.
Get the full Proride 598 details here.
---
Thule Sidearm 594XT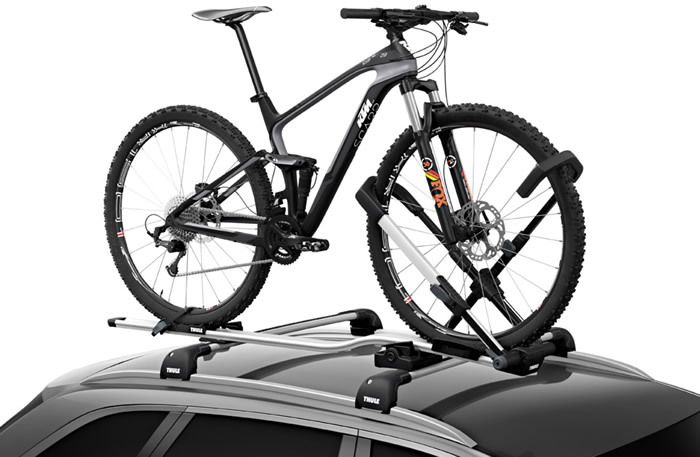 Thule's big brother of roof mounted bike carriers. This is a tough unit designed for bikes up to 20kg. The bikes are securely held without the need to make contact with the frame.
Get the full Thule UpRide details here
---
Yakima FrontLoader 8002103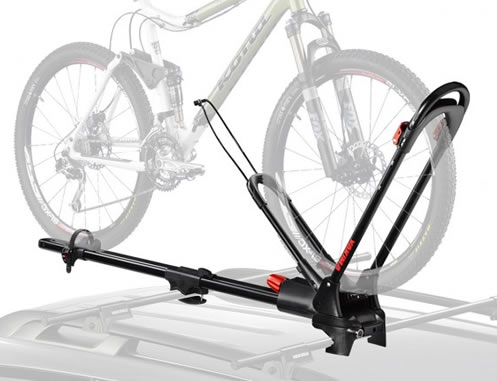 Yakima FrontLoader is an economical bike carrier for securing a wide range of bikes without contact on the frame.
Get the full FrontLoader details here
---
Yakima HighRoad 8002114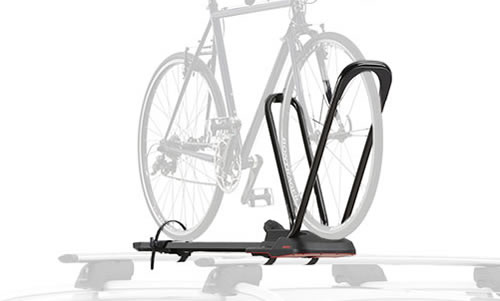 The HighRoad is Yakima's premier rof mount bike carrier, no frame contact and a rock solid grip.
Get the full HighRoad details here