Roof Rack Mounted Bike Carriers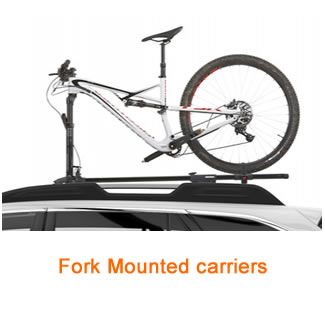 F/wheel mount here>>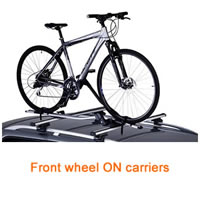 FORK MOUNT carriers

Fits these racks:

Colour

fit length

$

* FREIGHT $15
WB200
Whispbar/Yakima, Rhino, Rola, aero bars with T-channel. (Not Thule Evo)
Clearance: $199 WSL
Silver
124
$265
more info
Outride 561
Bars with T-channel and 32x22mm square bar
Silver
133
$259
more info
Wheel Carrier 593-1
Most aero crossbar profiles and 32x22mm square bar
Silver
na
$99*
more info
RBC035 Mountain Trail
Most crossbar profiles
Black
128
$225
more info
ForkLift 02098
Most crossbar profiles
Black
128
$215
more info
HighSpeed 02115
Most crossbar profiles
Black
115
$325
more info

* Freight $10
There are many bike carriers available for attaching bikes to your roof racks. At Shop1Auto we can provide any of the carriers available from Thule, Rhino, Whispbar, Yakima, Prorack or ROLA however we have looked at all the offerings and the following selection are the units that we stock based on their individual merits, be that features, price, ease of use and the like.
The first choice you need to make is whether to go for a fork mounted bike carrier or a front wheel fitted bike carrier. The front wheel on bike carriers are very convenient as you do not need to remove the bikes front wheel and then working out where to carry the wheel itself. Yet while the fork mount bike carrier is less convenient it does keep the bikes lower on the car, reducing drag at the front and exposure to cross winds at the side. Our general advice is for regular local trips go wheel-on and for long freeway runs go for wheel off. That doesn't mean to say you can not use a wheel-on bike carrier on the freeway.
These are our favourite carriers:
Whispbar WB200 Bike Carrier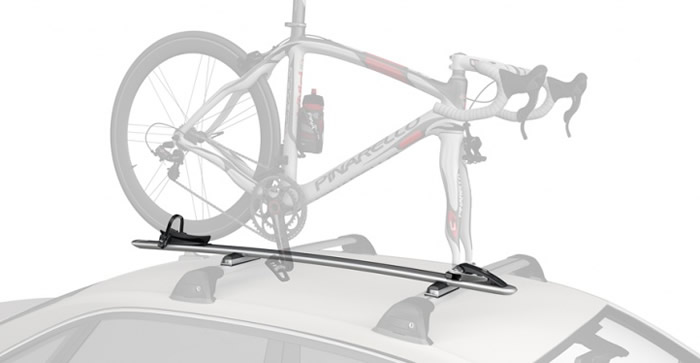 Who said bike carriers couldn't be sexy. The WB200 shows what happens when you leave designers freedom to explore. The result is a carrier that is as cool as it is simple. It is the perfect addition to a set of Whispbar crossbars.
Find the full run down on the Whispbar WB200 here.
---
Thule OutRide 561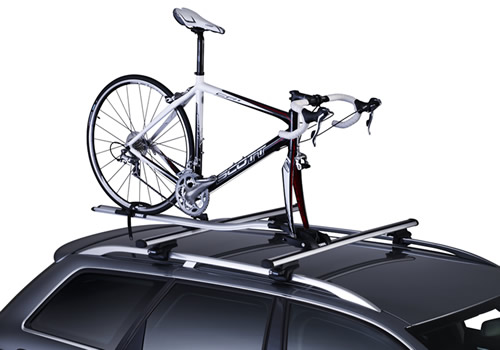 The OutRide bike carrier from Thule is designed to accommodate all types of bike with removable front wheels. This includes road and mountain bikes with disk brakes and bikes with a 20mm through axle. An adapter is also available for bikes with a 15mm through axle.
Get the full OutRide 561 details here
---
Rhino Mountain Trail RBC035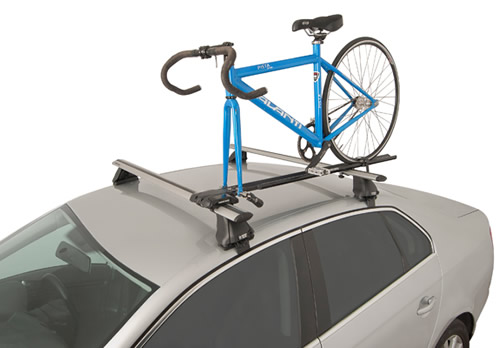 Rhino's newest bike rack offering with locking skewer and universal attachment straps to fit any aero cross bars.
Get the full Mountain Trail RBC035 details here
---
Yakima ForkLift 8002098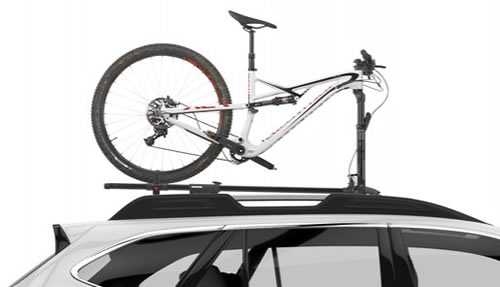 The ForkLift is an excellent value and versatile fork mount bike carrier from Yakima.
Get the full Yakima ForkLift 8002098 details here
---
Yakima HighSpeed 8002115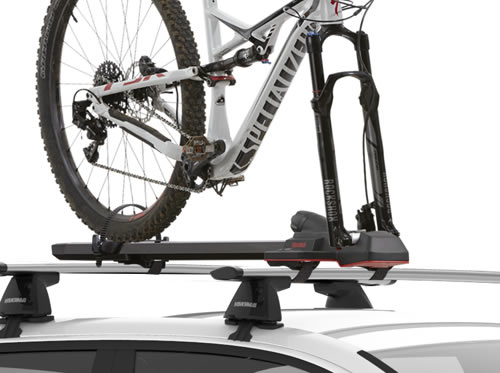 The HighSpeed is Yakima's premium fork mounted bike carrier for bikes with both quick release skewers and through axles.
Get the full Yakima HighSpeed 8002115 details here
---