Yakima Frontloader 8002103 Bike Carrier ($275)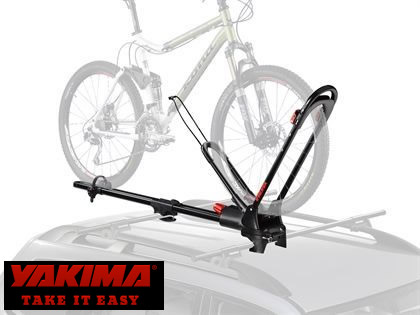 The Yakima Frontloader bike carrier is an excellent choice as a universal carrier that fits most roof rack styles and most bikes. By supporting the bike by the the front wheel it is a great choice for cycles where frame contact can cause damage and brake/gear cables can be crimped.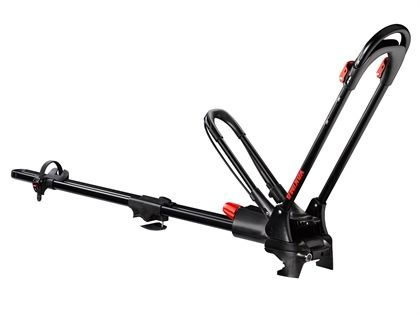 Heavy duty design, Yakima FrontLoader.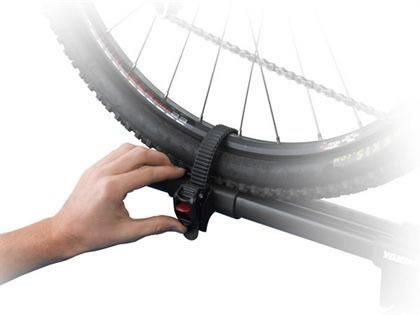 Ratchet wheel straps for secure grip.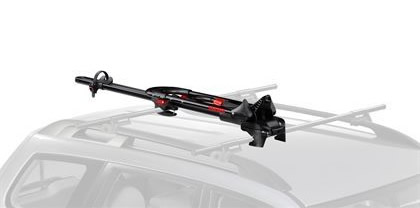 Folds flat when not in use.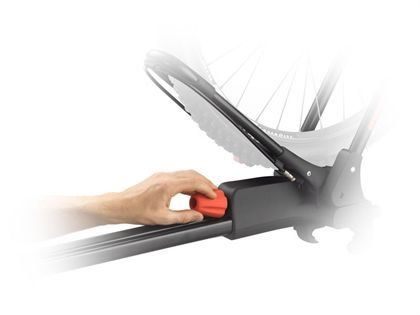 Adjustment for secure grip on front wheel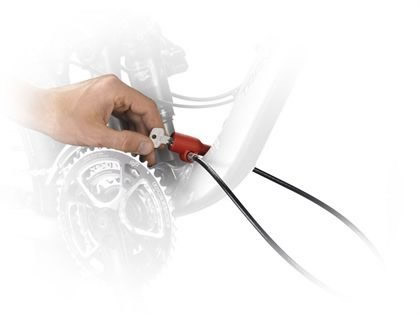 Free lock cores included
Yakima Frontloader 8002103 features
Quick and easy tool-free installation
Fits a wide range of roof rack profiles (excluding Rhino Rack Heavy Duty)
No contact with painted surfaces on bike
Fits all kinds of wheels from 20" kids sizes to 29" and 700c road wheels
Tool free installation
Fits most disk brake cycles
Fit on driver or kerb side of vehicle
Lifetime manufacturers warranty

Fitting instructions

What Steve thinks...... The Yakima FrontLoader is a very well priced bike holder if you want to eliminate any frame contact. It is an older design to the more expensive Yakima HighRoad so it is not as slick in appearance and the design is a bit more clunky. It carries tyre widths up to 3" and bikes up to 18kg. Slightly less than the HighRoad (3.25" and 20kg). The front-most wheel holder is adjustable which makes it aesthetically less pleasing than the simpler HighRoad design, however it increases the range of wheels it can hold allowing smaller (ie BMX bikes) to be carried. The Frontloader is 20" to 29" compared to the HighRoad which is 23" to 29".
The attachment method is simple and versatile so the bike carrier will fit a wide range of cross bar profiles with the only exception being the Rhino HD bar with 40mm deep square profile. Would I buy one? At this point in time I would spend the extra money and go for the more stylish HighRoad bike carrier, however previously when we had a BMX in the family bike fleet I would have certainly gone for this option for a very secure easy to use bike rack. The rack has a lock cable for the bike but no lock core to go in it which makes it pointless so at Shop1auto we provide lock barrels at no extra charge.
---
Optional Lock Cores ($20) pair
---