Rhino Rack Alloy Trays
Made from structural grade aluminium and glass-reinforced nylon, Rhino Rack alloy trays provide a strong robust solution for increasing roof carrying space. They are a proven favourite of 4WD enthusiasts who have tested the AT-alloy basket in the harshest Australian  conditions. It will fit to Rhino Vortex and Heavy Duty cross bars as well as Thule Aero and WingBar. They include integrated tie off points and they can be fitted with a range of accessories including jerry can, spare wheel, shovel and hi-lift jack holders or can be used with the top quality Rhino Rack luggage bag range.

Part No.
Internal length
Internal width
x-bars rqd
Planks
Fit kits
Weight
Price
Install
AT1510
1500
1010
2
4
HK24,SK24,TK24
15kg
$675
$40

Prices include fitting hardware kit.
Roof Rack Compatibility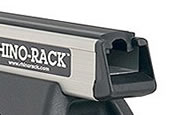 Rhino Rack Heavy Duty bar use HK** kits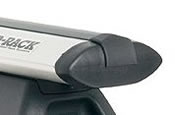 Rhino Vortex bar use SK** kits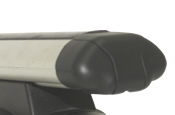 Thule Aero and WingBar use TK** kits

What Steve thinks....
The Rhino Rack AT alloy basket is the classic, quality alloy basket and a long time favourite of the 4WD enthusiast. It will stand up to the heavy use and the brutal exposure of the outback. It can take a little while to fit and remove but this is a consequence of multiple attachments that clamp the bar across the entire width of the cross bar. The aluminium construction keeps the weight down and provides a corrosion resistant finish so the basket still looks the part after years of use. Rhino Rack have also put a lot of effort into creating a range of accessories to complement the range.

Fitting instructions
---
Accessories: Rhino Rack Alloy Trays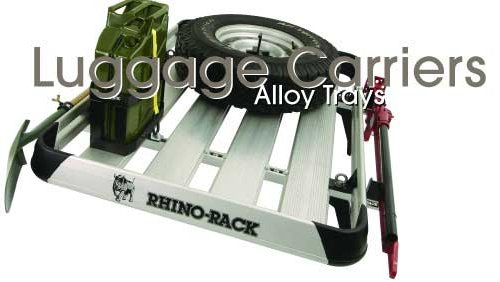 Rhino-Rack Luggage Bags
The Rhino-Rack range of luggage bags are the perfect accessory to complement either a luggage tray or steel mesh basket. Designed for harsh Australian conditions , these bags offer market leading resistance to protecting your gear from dust and rain.

Water resistant
Dust resistant
Heavy duty stitching
Heavy duty zipper with protective flap
Heavy duty abrasion resistant base
Strong compression straps with tough buckles
More details, sizes and prices
Jerry Can Holders ($120)

The Rhino-Rack jerry can holder is a great accessory that allows you to carry your jerry can safely and securely in an upright position. It mounts directly to any Rhino Alloy Tray and comes with mounting brackets and a ratchet strap.
Upright holder:43107 Fitting instructions
Horizontal holder: 43108 Fitting instructions
4kg Gas Bottle Holder ($95)
The new Rhino-Rack gas bottle strap is designed to securely fit most 4.0L gas bottles on the market. The new stainless steel ring fits neatly over the outlet of the bottle and has adjustability through the cam buckle then complete tightens via the ratchet. New covers over the cam buckle make it easy to use.
Part number: RGBH4
Alloy Tray Light Bracket ($35 each)

The Rhino-Rack Alloy Tray Light Brackets are built to secure your lights and withstand the harshest conditions for work and adventure. Rhino-Rack Alloy Tray Light Brackets are adjustable to fit different sized lights. Mount additional lights on the front and rear of your Rhino-Rack Alloy Tray to lead the pack and create more possibilities to use your vehicle at night for work or play.
Part number: ATLB
Spare Wheel Holder ($99)

No longer will you need to find the space inside your car to fit a large, bulky wheel. Free up that space by securely mounting it to the top of your vehicle on the Rhino Rack Alloy Tray with RSWH spare wheel holder.
The unit is easy to fit using a one piece clamping unit. It's made from strong ultra-light materials and comes with a 3 year warranty.
Part number: RSWH
Rhino Folding Ladder ($250)

The Rhino Folding Ladder is the perfect accessory to making your life easier loading and unloading your luggage from your Rhino steel Mesh Basket or Mesh Platform. Fold out to get access to your load then fold up and pack away in its bag.
Part number: RFL
Rhino Wheel Step ($89)

The Rhino Wheel Step is the safe and effective way to load and unload your roof racks, luggage carriers, trays and any gear mounted on your 4WD's roof. Adjusts top suit a range of 4WD wheel widths and folds up for storage.
Part number: RWS