Rhino Rack Pioneer Platforms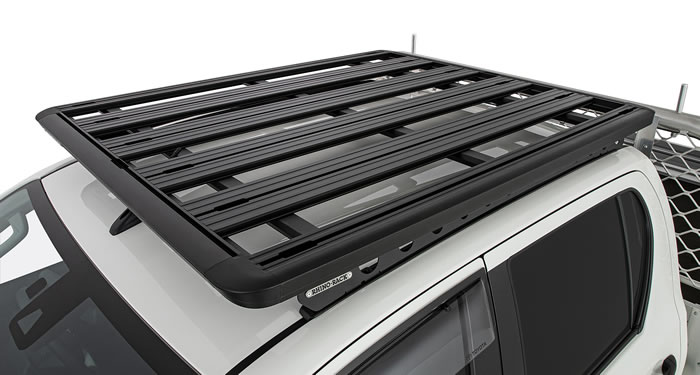 The first and still the best, although imitated by many, the award winning Rhino-Rack Pioneer platform still leads the way in platform design and range of accessories. Made from aluminium and glass-reinforced nylon the Pioneer range is lightweight and tough. Durable enough to cope with harsh environments and flexible enough to carry a variety of loads. A black powder coat finish gives a smart look and corrosion resistance.
Made from aluminium and glass-reinforced nylon corners
Black powder coated for increased corrosion resistance.
The most versatile and modular platform on the market
Faster install time with an integrated measuring strip
Additional accessory channels on front and rear extrusions
Integrated wiring capabilities within all extrusions
Corners can be drilled/cut out to provide access for wiring
Comprehensive range of accessories
Includes torque tool to ensure fasteners are correctly tightened and assists with regular maintenance
Integrated channel on underside of front and rear extrusions provides additional mounting points for light bars, worklights and other accessories
Compatable with 'Backbone' mounting system and Rhino Rack heavy duty roof rack leg sets
5 years warranty
Part No.
Length
Width
kg
Planks
Comments
42114BF
1228
952
10
3
universal: clamps to regular cross bars, flat pack
42115BF
1478
1184
15
4

universal: clamps to regular cross bars, flat pack

52112
928
1426
15
5
52121
1228
1426
18
5
52109
1328
1236
16
4
52110
1328
1376
18
5
52111
1328
1426
19
5
52100
1528
1236
18
4
52101
1528
1376
21
5
52113
1528
1426
23
5
52108
1828
1426
26
5
52102
1928
1236
24
4
52103
1928
1376
27
5
52104
2128
1426
30
5
52107
2128
1236
25
4
52119F
2528
1586
40
5
flatpack requires assembly
52105
2728
1465
38
5
Accessories: Rhino Rack Pioneer Platforms

Pioneer accessory brochure
Rhino Rack Luggage Bags
The Rhino-Rack range of luggage bags are the perfect accessory to complement either a luggage tray or steel mesh basket. Designed for harsh Australian conditions, these bags give your gear market leading protection from dust and rain.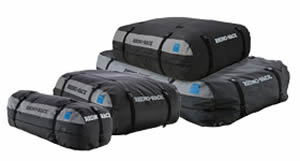 Water resistant
Dust resistant
Heavy duty stitching
Heavy duty zipper with protective flap
Heavy duty abrasion resistant base
Strong compression straps with tough buckles
More details, sizes and prices
Rhino Rack Folding Ladder

The Rhino Rack Folding Ladder is the perfect accessory to making your life easier loading and unloading your luggage from your Rhino steel Mesh Basket or Mesh Platform. Fold out to get access to your load then fold up and pack away in its bag.
Part number: RFL
Rhino Rack Wheel Step

The Rhino Wheel Step is the safe and effective way to load and unload your roof racks, luggage carriers, trays and any gear mounted on your 4WD's roof. Adjusts top suit a range of 4WD wheel widths and folds up for storage.
Part number: RWS