Rhino Rack Platform Baskets (steel mesh)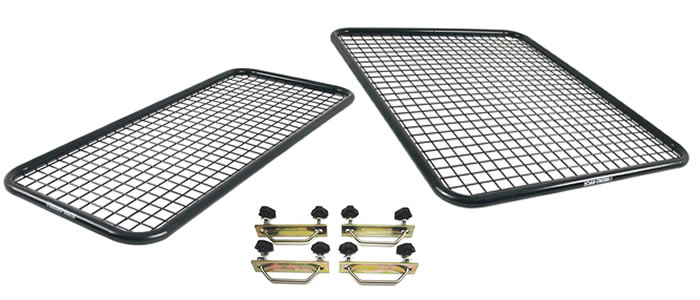 The Rhino-Rack Steel Mesh Platform is constructed from tough steel, offering you a strong and durable transport method for all those extra items. The platforms are zinc-plated and powder-coated black, so they won't rust or fade.
The Rhino Rack mesh platform gives the sturdy base of a conventional wire mesh basket but only increases the height of the vehicle by about 50mm above your cross bars. Often this means the difference to allow entry to under ground parking and low roof garages especially on the taller vehicles.
The Rhino Rack Steel Mesh Platform is available in a range of sizes shown in the table below. The width needs to be narrower than the cross bars and the length appropriate to the size of the vehicle roof.
Your cargo can simply be strapped in place to the basket or with the addition of a luggage bag they can provide an enclosed weather proof solution.
Manufacturers Warranty 3 years
Part No.
Length
Width
Height
x-bars rqd
Weight
Price
Install

RPBH

1500mm
650mm
50mm
2
12kg
$345
$35
RPBS
1245
940
50
2
14kg
$295
$35
RPBM
1340
1100
50
2
11kg
$375

$35

RPBL
1590
1205
50
2
19kg
$545
$35
Prices includes u-bolt fitting kit
Roof Rack Compatibility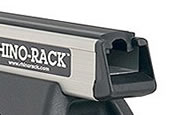 Rhino Rack Heavy Duty bar use RUBK fit kit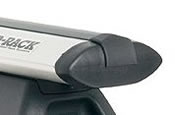 Rhino Vortex bar use S280 fit kit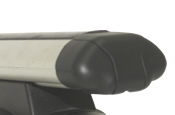 Thule Aero and WingBar use S280 fit kit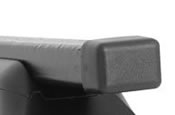 Thule/Rhino/Prorack Euro-square bar use S280 fit kit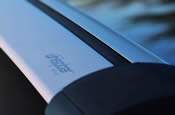 Whispbar cross bar use PR3090 fit kit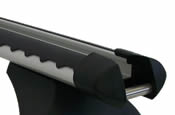 Whispbar Heavy Duty use S280 fit kit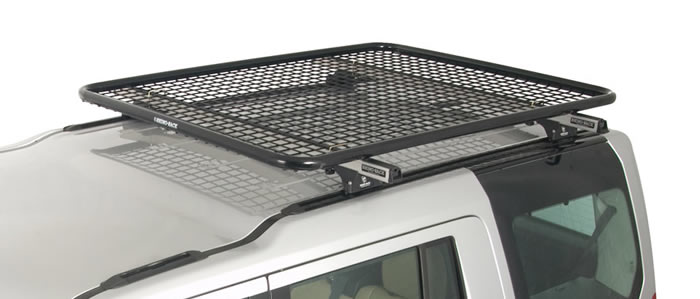 What Steve thinks....
The Rhino Rack steel mesh platform offers a very economical solution to adding a strong base platform to your roof, that is easy to remove and keeps the height down. It is a utilitarian product that does not have the finesse of the Pioneer Platform range but it will save a handy chunk of dollars over that option if working on a tighter budget.
---
Accessories: Rhino Rack Wire Mesh Baskets
Rhino Rack Luggage Bags
The Rhino-Rack range of luggage bags are the perfect accessory to complement either a luggage tray or steel mesh basket. Designed for harsh Australian conditions, these bags give your gear market leading protection from dust and rain.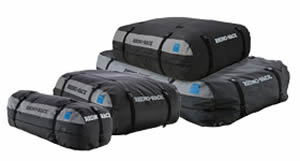 Water resistant
Dust resistant
Heavy duty stitching
Heavy duty zipper with protective flap
Heavy duty abrasion resistant base
Strong compression straps with tough buckles
More details, sizes and prices
U-Bolt Kits ($45)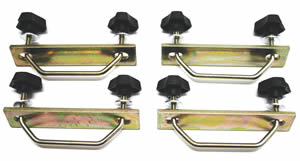 Rhino Rack S280 u-bolt kit, general purpose u-bolt kit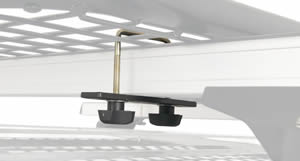 Rhino Rack RUBKL u-bolt kit, Rhino HD bar u-bolt kit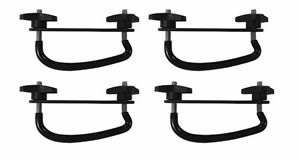 Prorack PR3090 (Whispbar) u-bolt kit
Rhino Rack Folding Ladder

The Rhino Rack Folding Ladder is the perfect accessory to making your life easier loading and unloading your luggage from your Rhino steel Mesh Basket or Mesh Platform. Fold out to get access to your load then fold up and pack away in its bag.
Part number: RFL
Rhino Rack Wheel Step

The Rhino Wheel Step is the safe and effective way to load and unload your roof racks, luggage carriers, trays and any gear mounted on your 4WD's roof. Adjusts top suit a range of 4WD wheel widths and folds up for storage.
Part number: RWS