Thule Spare-Me 963PRO ($475*)

*freight +$10
The Thule 963XTR is a great bike carrier for attaching to the spare wheel on 4WD vehicles. It can carry 2 bikes which is the maximum typical for spare wheel bike carriers because of limitations in the strength of the vehicles mounting point and door hinges.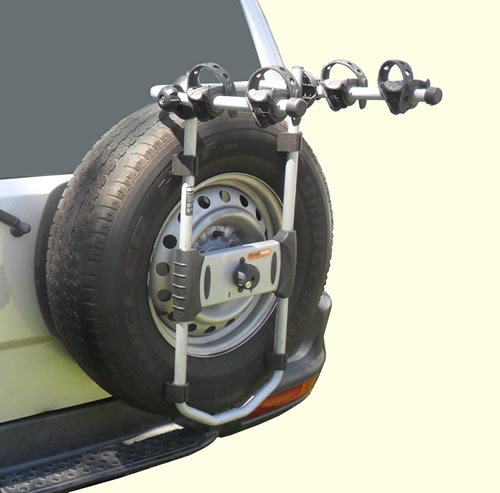 The Spare-Me attaches to the vehicle by a plate which is sandwiched between the spare wheel and its mounting boss. The attachment plate has multiple holes in it to accomodate a variety of vehicle spare wheel hole patterns. This plate can then live on the wagon for quick fitting of the carrier in the future. On some 4WDs with alloy wheels you may find a plug in the centre of the wheel that needs to be knocked out.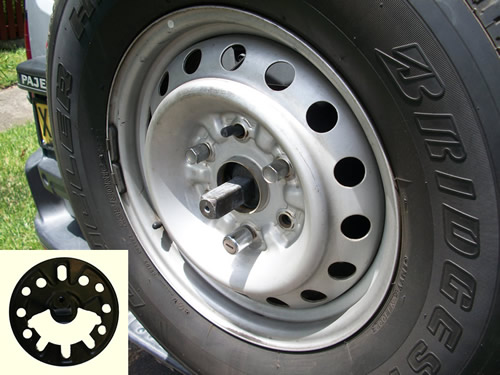 Application list:
Vehicle make
Model
Years
Daihatsu
Feroza 2dr
11/88-1998
Terios 4dr

07/97 on

Holden
Frontera 2/4dr
All
Jackeroo 2/4dr
All
Honda
CRV
06/95-01/07
Jeep
Wrangler 2dr
1986 on
Kia
Sportage 4dr
1996-06/2004
Landrover
Discovery II
3/1991-08/2004
Freelander 4dr
02/98-07/2007
Mitsubishi
Pajero SWB/LWB
1983-09/2009
Nissan
Pathfinder 2/4dr
up to 10/95
Patrol 4dr
06/80-11/97
Terrano 4dr

03/97 on

Suzuki
Jimny 2dr
09/98 on
Sierra
01/85 on
Vitara/Grand Vitara
up to 08/2005
XL7
06/01 on
Toyota
Prado
07/96-10/2009
RAV4

1994 on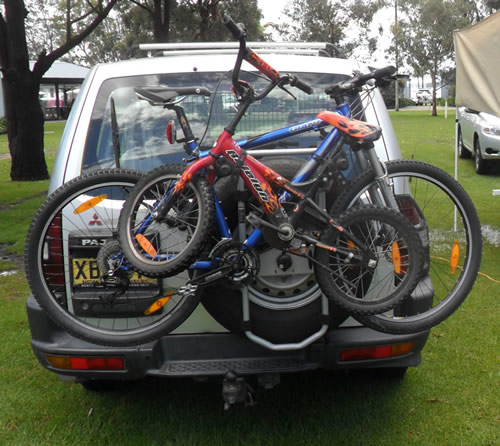 The bikes are held in cradles which can be tilted to accomodate the frames angle. They incorporate a rubber strap that has plenty of stretch and length in it to get around big tubes. Finally a tie down strap is included to stop the front wheels from flopping about.
The small print:
This product is not suitable for use on the spare wheels fitted to the rear of trailers and caravans.
This product can not be used with a spare wheel cover.

Steve' review
Accessories
Female frame adapters
Light boards/ no. plate holders
more info

Lock straps
more info