Yakima Mako Aero ($198*)
*Freight +$10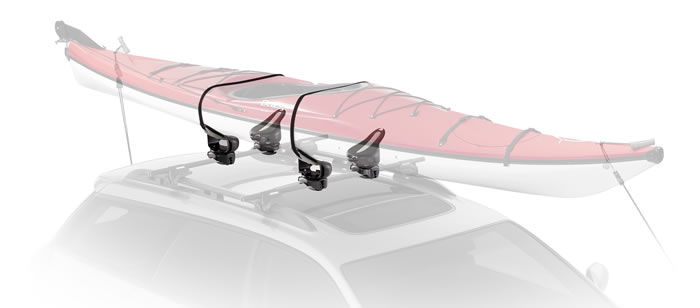 The Mako Aero are a tough set of cradles from the American brand Yakima They will clamp around a wide range of crossbar profiles from a small square cross section to the wide Whispbar wing shape.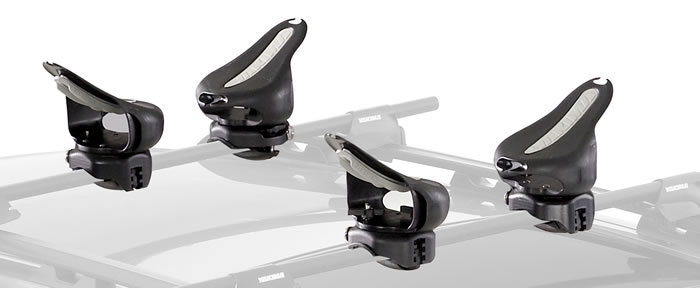 The cradle surfaces are huge which is great for spreading the load over a wide contact area. They can be used with either a rubber surface or the kit comes with an adhesive felt pad that can be used to cover the contact surface instead. The felt pads allow the hull to slide to help with positioning the kayak but when straps are applied the central rubber strips (shown grey in the above image) are pulled into contact with the hull to provide lots of grip.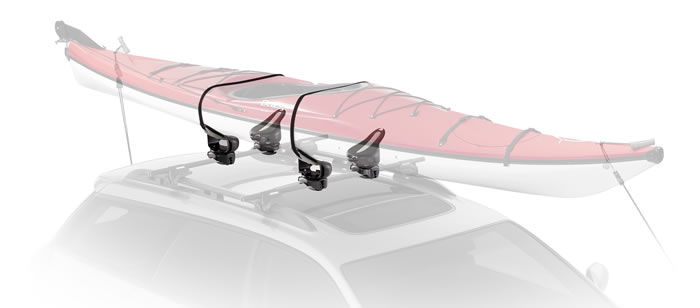 The Yakima Mako Aero is supplied as a two box kit which includes 4 cradles, 2 tie down straps and 2 front and rear tie downs.
Yakima Mako Aero features
Clamps to a wide range of roof rack
Optional key locks $40 (lock cradles to racks)
Very large contact area of pads
Corrosion resistant
Manufacturer's lifetime warranty
Compatible with these roof racks:
Rhino Aero and Vortex
Thule Aero and Wing
Whispbar
Prorack P-Bar
Rola Sports

Fitting instructions

What Steve thinks......
I like the Mako Aero. They are big bulky things that have oversized pads which has got to be a good thing to spread the load and reduce stresses on the hull. The tie down straps follow a channel around the back face of each cradle which pulls the grippy central strip of the cradle into contact with the hull to stop it slipping once tightened. I think this is a clever feature that I haven't seen elsewhere.
The cradles aren't the quickest style to fit to your crossbars but they are very universal and will fit to a wide range of cross bar profiles.
Additional restraints for the bow and stern are included with this product... yay!
*Freight +$10