Yakima Bowdown ($239*)
*Freight $10

The Yakima Bowdown comes from the USA and is built tough but has heaps of padding to protect your watercraft. The front edge is wedge shaped to help slide the kayak up into the 'J' which is both a clever and unique feature of this unit.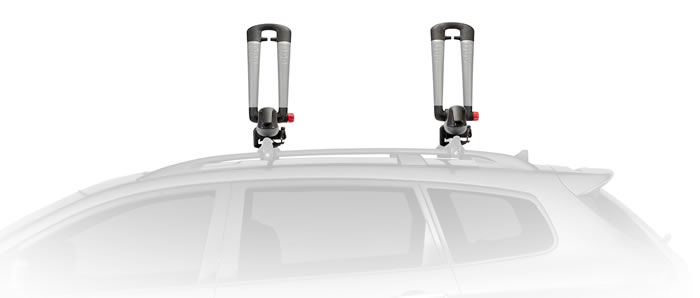 When set for carrying the Bowdown has large rear supports that give plenty of contact and stability with the load. The SteelCore construction provides strength while the substantial Hullguard padding protects.

With a turn of the red knob the Bowdown fold flat to reduce the height of your vehicle.

The Bowdown kayak carrier attaches with an adjustable clamp around the crossbar and will fit many brands of roof racks. The cradles can be key locked to the cross bars by adding the lock core accessory.
What's in the box
The Bowdown comes all you need to carry a kayak on your roof racks. That is a pair of cradles, heavy duty straps to secure your kayak to the cradles and bow and stern tie downs for additional restraint.
Key locking cores optional extra:
Yakima Bowdown features
Clamps to a wide range of roof rack
Optional key locks $20 (lock cradles to racks)
Very large contact area of pads
Heavy duty padding
Corrosion resistant
Manufacturer's lifetime warranty
Compatible with these roof racks:
Rhino Aero, Vortex Euro-square bar
Thule Aero, Wing and square bar
Whispbar
Prorack P-Bar
Rola Sports

Fitting instructions

What Steve thinks......
The Yakima Bowdown has some unique features that I like. They have a huge amount of padding and they are built very strong. I like the ramp that forms the front edge which can really help with loading from the side. Also I always give bonus points when a kayak system comes complete with the stern and bow tie downs.
The cradles aren't the quickest style to fit to your crossbars but they are very universal, fitting to a wide range of cross bar profiles.
*Freight $10