Prorack Whispbar PR3032N ($159*)
*Freigh +$10

The Prorack side loading kayak cradle matches up perfectly with the Whispbar and P-Bar range of roof racks. The cradles simply slide into the top channel of the Whispbar cross bar and tighten with an ergonomic thumb wheel. With a separate attachment clamp (included) they can also fit the the Prorack P-Bar square profile cross bar.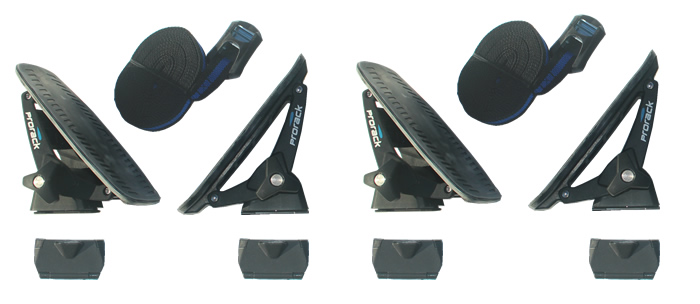 The kit includes 4 cradles that will attach straight on to Whispbar cross bars, 2 tie down straps with soft buckle covers and attachment mounts for connecting to square cross section P-Bars.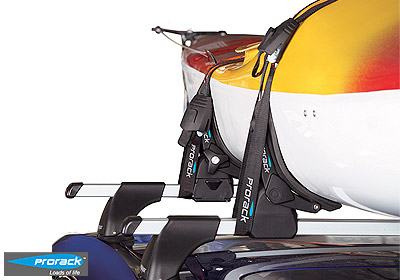 The large 220mm x 100mm rubber pads contour to the shape of the hull.

The cradles are designed for loading from the side of the car and pivot and rotate to assist with the loading of your watercraft.

Prorack PR3032N features
T-Channel fitment
Pads engineered to fit a variety of hulls
Large 100mm x 220mm contact area of pads
UV protected
Corrosion resistant
Rotate to help with side loading
Manufacturer's warranty 3 years
Compatible with these roof racks:
Rhino Aero and Vortex
Thule Aero and Wing
Whispbar
Prorack P-Bar
Rola Sports (2005 on)

Fitting instructions

What Steve thinks......
The Prorack PR3032N kayak carriers are a nice set of cradles. They fit quick and easily to the Whispbar and other T-channel cross bars. Fitting to the Prorack P-Bar can be a bit of fiddle. One unique feature I like is that the pad is not central about the pivot point so you can fit the cradle in one orientation to suit shallow hull shapes and spin them around in the opposite orientation to better suit to fit deeper 'V' hulls.
The PR3032N are well made and have been a popular addition to Whispbar crossbars.
Again, despite showing them in the instructions and on the main image on the packaging no front and a rear tie down straps are included in the kit. Grrrr. So you will need to allow another 15 bucks or so or find some non-stretch rope to secure your kayak at its ends as shown in the picture at the top..
*Freigh +$10