Number plate holders for Clip-on bike racks
If your lights and number plate are obscured a number plate holder will prevent a traffic infringement as your light must be visible. The car's registration number plate or a duplicate provided by the RTA must also be clearly visible and illuminated at night time.
Note: A number plate light unit is powered by a trailer lighting socket which is usually fitted along with a towbar. However, as most peope buy a clip-on bike carrier because they do not have a towbar it is very unlikely that your car will have a feed for a lighting board. Therefore you should investigate what is involved to do this on your car. On some vehicles it is easy to wire in a lighting socket on a ribbon cable that can live in the boot for most of its life and just be pulled out when needed. On some cars with more complicated lighting circuits this process can get quite expensive. If an aftermarket loom is not available and/or electronic control boxes are required to protect the car's electronics you may find there are some dollars involved to get this organise.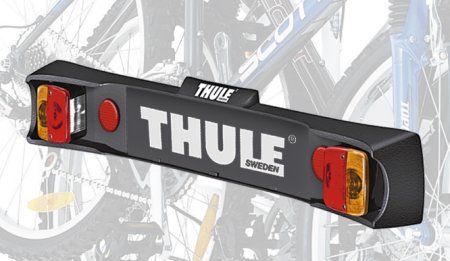 We have two options for number plate carrier/lighting boards suitable for use with a bike carrier.
Thule 976 Lightboard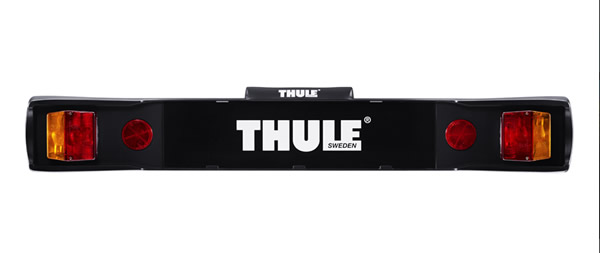 The Thule 976 light board is a high quality unit which attaches to the rear of the bikes with the velcro straps that are supplied. It comes with a large 7 pin round (European) plug and an adapter for a 7 pin flat plug to attach to your towbars power outlet. The plastic back board is built up around the ends to give protection from accidentally hitting the lenses in use. Overall length 1mtr.
*freight $10
---
Rhino Rack RBCA011 Lighting board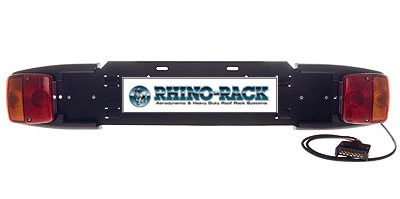 The Rhino Rack RBCA011 is priced so well it should be part of everyone's bike rack set up. Simply straps on to the back of the bikes and plugs into a 7 pin flat towing socket.
*freight $10
---